Posted on
Two-week Danny Scrubb Summer School wraps up on Union Island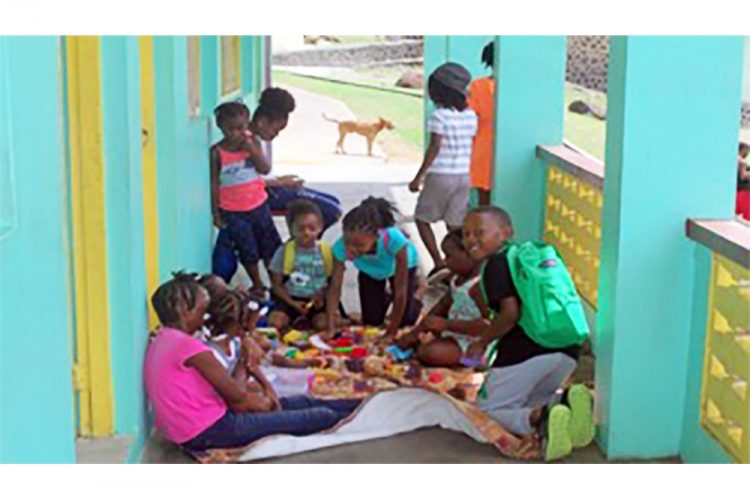 While persons on St Vincent were enjoying Vincy Mas, children in Union Island enjoyed days filled with fun and learning at the Danny Scrubb Summer School.
The school opened for its ninth year, as children packed their bags and headed to the Stephanie Brown Primary School in Clifton to brush up on their Maths and English for two weeks. The theme this year was climate change, the environment, and how we cohabitate, which children experienced through creative activities throughout the day.
They were also treated to a day trip to Mayreau sponsored by Wind & Sea as well as cultural drumming where children were exposed to the songs and beats of the local Big Drum tradition.
This year for the first time, two reading clubs were started on either side of the island which attracted at least 20 children a day and which ended last Friday after four weeks with a closing ceremony at the Ashton Resource Centre. The swimming club, which was an instant hit, also came to an end. The swimming club was led by Sakina Sutherland-Jones, a swimming coach who joined the summer school from the UK and Rickydene Alexander who is a local coach.
The summer school expressed its gratitude to Mrs James and to the Daneford Trust, which supported young people travelling to St Vincent to volunteer for 20 years, and whose volunteers Akilah Higgins and Eric Pringle made a valuable contribution to the running of the school. The school also thanked all the other volunteers that took part as well as the enduring support of the UK-based Union Island Support Group and others donors.
Some of the activities that the children took part in included Bird Watching with Sustainable Grenadines (SUSGren); a clean up of the Ashton Lagoon Area (the Mangrove Habitat); Baking of cakes and cookies; Cultural Drumming; Swimming; and an exhibition of the work done, art work created, and cultural performances.