Posted on
SVG braces for impact from tropical storm Dorian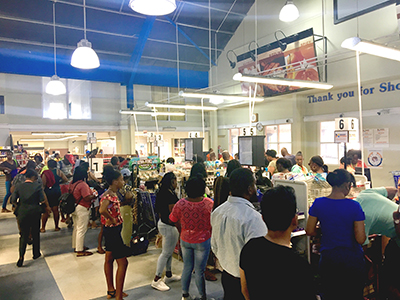 People crowded supermarkets and gas stations yesterday afternoon as businesses, government ministries and other organizations shut down in preparation for the possible impacts of Tropical Storm Dorian.
According to an advisory from the Argyle International Airport Meteorological Services, the centre of the storm is expected to pass near or over St Vincent early this morning.
And Prime Minister Dr Ralph Gonsalves, in a national address yesterday, ordered that all businesses and nonessential services be closed by 4 pm, with gas stations and supermarkets remaining open until 6 pm.
But persons were out of work well before this closing time, stocking up on supplies including crackers, cornflakes, tinned goods, candles and batteries at local supermarkets. And cars lined up at gas stations nation-wide to fill their tanks in anticipation of the storm.
"The National Insurance Services would like to inform its valued stakeholders that its office will close from 2:00 pm today, August 26th, 2019. Our closure is to facilitate preparations for the passage of Tropical Storm Dorian. We take this time to urge all to make the necessary arrangements, adhere to all warnings and remain safe," said a release issued by the NIS yesterday.
The Electoral Office also sent out a release to inform the public that there would be no Voters' registration yesterday afternoon in any of the constituencies due to the impending tropical storm.
A public service announcement from the Economic Planning and Sustainable Development Division also announced the postponement of the Sustainable Development Goals (SDGs) sensitisation workshops, until further notice.
"You have to prepare for this as if you are preparing for a hurricane. I don't want you to take things lightly and say it's just a storm and that it's going to the north and it would not impact us," the prime minister said in his address to the nation. "This is the same thing with [Hurricane] Tomas and the Met agencies and NEMO have advised me that the way the storm is shaping up in terms of its direction and type, as of this moment, it resembles Tomas and you know what Tomas did on October 31st, 2010."
Opposition leader, Godwin Friday also broadcast a message to the nation via the New Democratic Party's Facebook page, in which he encouraged citizens to be prepared for the storm by taking the necessary precautions to protect themselves and their property.

"Be safe, look out for one another. If there is a drain by your house and you notice that it's blocked now, this is not the time to clear it," he said. "Stay indoors as the authorities have advised us to…let us look out for one another and hope by the grace of God that this doesn't cause too much damage to us here in St Vincent and the Grenadines."
The Advisory from the AIA Meteorological Services said that pockets of moderate to heavy showers and thunderstorms are expected to move across the islands from early Tuesday morning.
Rainfall accumulations of at least 3 to 8 inches (75 to 200 mm) are possible with isolated higher amounts and as a result, some flash-flooding is likely in low-lying areas and near rivers and streams.
It also said that swells of as much as 12 feet are also expected to accompany the system and low-lying coastlines around the islands will be particularly vulnerable at times of high tide.
High tide today is expected around 2:20 am and 2:24 pm.