Posted on
Veteran pilot gives up his wings after 46 years of flying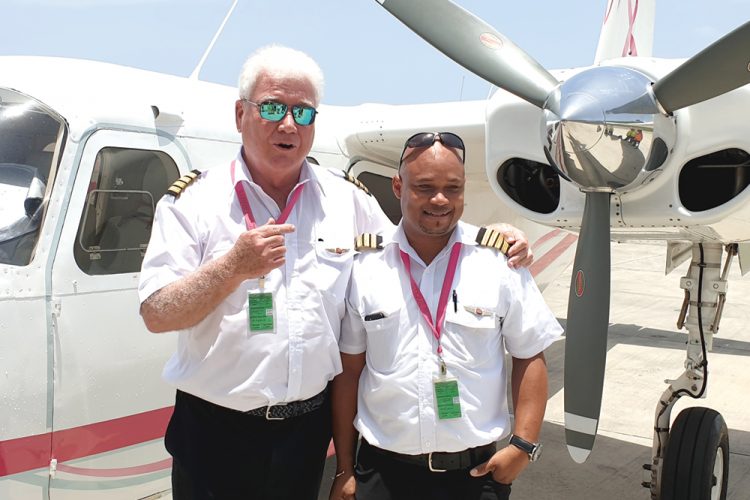 The 46-year flying career of pilot Jonathan Palmer has ended.
Captain Palmer, the proprietor of Mustique Airways, made his final flight last Friday August 16. On landing at the Argyle International Airport (AIA) he received a water salute while several of his friends, airport staff and members of his immediate family looked on.
His final commercial flight was done with co-pilot Siward "Peewee" Delves. The men have flown together for the last five years, as at 60, airline regulations state you must have a co-pilot.
"In a way, I am going to miss it, but I will be coming to work and still interacting with everyone," Palmer told SEARCHLIGHT.
He said his retirement is forced by regulations which say that a pilot has to retire at 65 years old. He celebrated that milestone on Saturday August 17, one day after his retirement.
Palmer is a pioneer in local aviation, having built the first ever hangar in St Vincent and the Grenadines (SVG) at the ET Joshua Airport in 1988.
He started flying privately in August 1973. At that time, he flew a Cherokee 180 single engine plane for two years as a private operator after learning to fly in St Croix. Palmer later went to England and in 1975, he qualified to fly commercially, after which he went to work for a Barbados based airline called Tropic Air.
After a while, Tropic Air expanded into SVG and Palmer was based here. In 1981, he moved to Mustique Airways as a pilot and a manager. At that time, Mustique Airways was owned by the homeowners on Mustique.
"I was just a young guy 26 years old when I started with Mustique Airways," recalled Palmer last Friday. He added that in 1988, he raised some funds and built the hangar at Arnos Vale.
That hangar has since been gifted to Dolphin Gymnastics.
After the hangar was built, the company began servicing planes and training persons in the aviation field. That move saw Vincentians qualifying as engineers, as they joined the company as trainee mechanics, did exams and received qualifications.
"Mustique Airways has a few first," said Palmer, while adding that he designed and built the hangar at Arnos Vale because he wanted to build infrastructure and the industry.
"I raised the money myself to build the hangar. I was committed. Out of that came training, engineers and pilots. A lot of the pilots came from Mustique Airways because I was a flight examiner, so I hired them, trained them.
"We have trained over a 100 pilots easy and they are all over the world flying with Emirates and Virgin Atlantic and other airlines, which is fantastic," Palmer said.
In 1992, Palmer bought Mustique Airways and developed it further. At one stage, the company had 93 employees. They now have 32 employees and four planes.
The company only does private charters.
"That's our niche. We connect with private jets and take them to Mustique. We don't do scheduled flights and we are a pretty low-key airline because our customers don't want publicity," stressed Palmer who added that they are known for their discretion and that they do not publicize their clients.
"We don't take selfies with them. Name them, I flew them," boasted Palmer who has flown members of the Royal Family for the past 25 years. This includes Princess Margaret (Palmer was the only pilot assigned to her for 25 years), Prince William, Kate Middleton and entertainers like Mick Jagger and the Rolling Stones.
Palmer says now that he is retired, he will miss interacting with passengers and air traffic controllers and the staff at the various islands he visited.
"It has been a joy of mine to go to places like St Lucia and see people I haven't seen in a while. I will miss that, but I would not miss being called regularly to do flights. I won't miss that," Palmer told SEARCHLIGHT.
He said he is still allowed to fly privately, but the plane he uses cannot be used to do commercial flights so if he wishes to go anywhere, he would prefer to let someone fly him.
He noted that Mustique Company has a fantastic engineering team and safety is of paramount importance to them. He also said that in his years of flying, there were no real scares but at times there were unruly passengers.