Posted on
14 women complete pattern making course in Bequia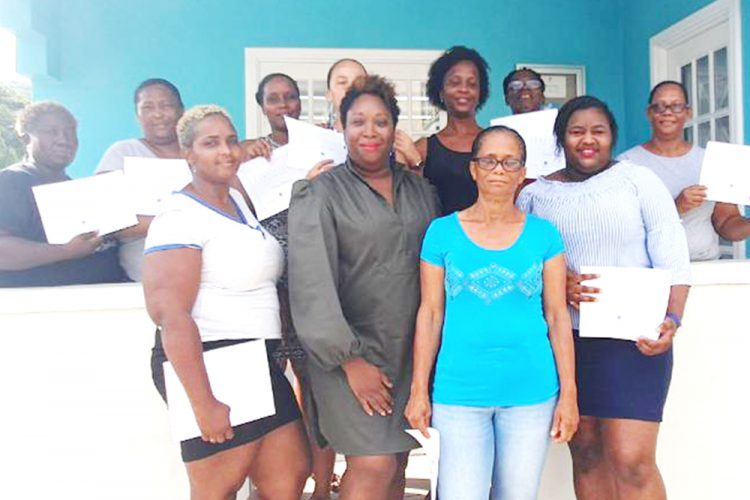 Fourteen women on August 13 completed an eight-week Pattern Making course at Bequia Threadworks with designer Kimya Glasgow.
The participants came from diverse backgrounds, including employees of Bequia Threadworks, sewing hobbyists and professional seamstresses looking to improve skills and knowledge.
Bequia Threadworks is a non-profit organisation founded in 2018 to offer quality sewn products, services and training.
Set up by the Grenadines Partnership Fund, the venture is based in Port Elizabeth, Bequia, and functions as a resource centre offering training in sewing, textiles and fashion design; a retail shop space; and a production space that aims to produce ethical and sustainable clothing as a part of the growing ethical brand movement.
Threadworks Manager Jessica Jaja said: "Our commitment to empowering the Bequia community through workshops such as the pattern making course offered by Ms. Kimya Glasgow is rooted in our organisation's mission and ethos. At Bequia Threadworks, we strive to advance a sustainable local economy by not only providing exquisite lifestyle products and design services but also accessible quality training. Ms. Glasgow's course represented the epitome of professional yet practical skills development training, and we could not have been more impressed with her program and outputs."
According to Glasgow, "In order for the SVG garment sector to grow, it is important to raise standards of production, to be competitive on an international level, creating a viable path to export.
By increasing skills and knowledge at all levels of the sector, the garment industry can be a key income-generator for all stakeholders. My prime objective is empowering and educating participants on the Fashion Design industry and its practices, to further entrepreneurship and employment opportunities, especially for youth and women."
"This course was an eye opener. It put us right into the thick of things. The facilitator was very knowledgeable and knew how to break-down information to all levels," said one of the participants.
The 14 participants were taught various pattern making principles, including drafting flat garment patterns from scratch, measuring clients, sizing, industry terminology and standards, use of tools and equipment and an introduction to grading and resizing patterns.