Posted on
GHS student places first in WE FM Reading Challenge Competition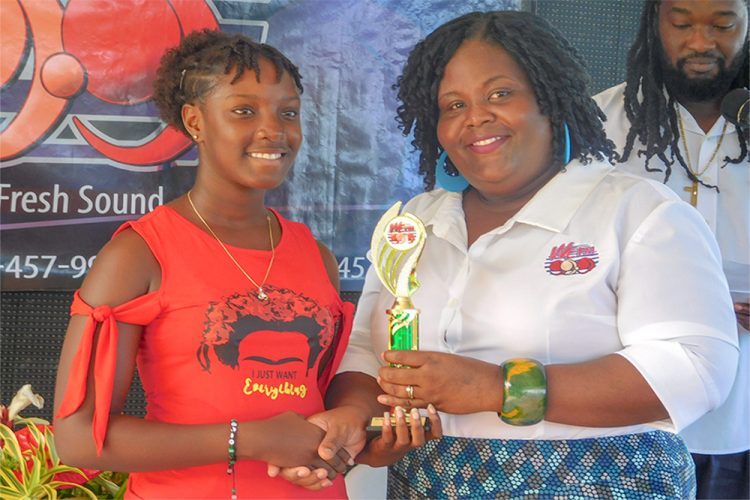 A student of the Girls' High School is the winner of this year's WE FM Summer Reading Challenge competition.
Jaydealeah Chambers was picked out of five finalists by judges to be this year's winner of the competition and her achievement was announced this week during a closing ceremony held at the radio station.
"There has been a great development from the beginning of the week to now, I really feel as if I have become a better reader. You have pointed out our weak spots, you have helped us improve on them and this is an experience I would never forget," Chambers said during Tuesday's ceremony.
The winner said taking part in the challenge was one of the best experiences she has ever had and thanked the facilitators and staff at the radio station for it.
She received a tablet compliments COURTS St Vincent Ltd. and a trophy sponsored by PC420 Neville Richards.
She also received an award for being the Most Disciplined student.
The programme is in its sixth year and was held under the theme "Building better readers".
"…The challenge is to not only teach English from the school's standpoint but to also help them to be able to present and speak fluently, clearly, be heard, be understood and these skills are going to help them throughout their lives," Donnie Collins, the station's programme manager said. "In public speaking, presenting at school, university, job interviews, wherever they'll be called upon to speak, I know that these five will be able to stand proudly and confidently and speak clearly knowing that they have had the knowledge passed on to them from us here."
Collins, who was also one of several facilitators from the local media fraternity, said that it is something that the station will continue to do and something that the staff enjoys doing.
Willis Williams, director of WEFM said that he sees the reading challenge as a contribution to nation building.
"Even little programmes like these…can start instilling values. So although we talk about reading here and communication…as a whole, the product is really developmental and will instil the greatest discipline in our kids and help them to be more rounded and better individuals," he said.
And Williams said that he expects big things not only from this year's finalists but also all other finalists that have taken part in the challenge over the last six years.
Second place was awarded to Lafika Samuel, a GHS student and she received a smartphone compliments FLOW. Tia Jacobs of the St Joseph's Convent Marriaqua placed third and was awarded with a gift voucher from Jujube bookstore.
Leah Johnson, one of the other participants received a special award for being the Most Improved. The other participant was Antonio Charles.
All participants also received a Junior Savers account at the St Vincent and the Grenadines Teachers' Co-operative Credit Union and meal vouchers from KFC.
Facilitators of this year's challenge were Theresa Daniel, Shelly Ann Clarke, Ashecia Sam, Kimsha Williams, Elson Crick, Colvin Harry and Khalil Cato.
The competition was judged by Rose Clair Charles, Joel Jack and Cecil Ryan.