Posted on
ECGC awards children of employees with financial assistance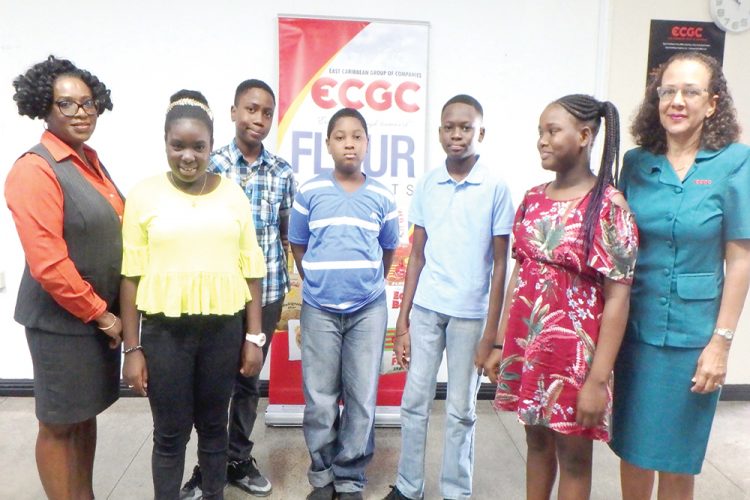 The East Caribbean Group of Companies (EGCG) on July 31 awarded five children of its employees who were successful in the Caribbean Primary Exit Assessment (CPEA) with financial assistance.
Alexandro Charles and Ginneke Shallow each received full scholarships while Tevere Pope, Kalyssa Dyer and Elroy "CJay" Browne received book allowances.
The full scholarship awardees will each receive EC$1,200 per year for five years of secondary school while the book allowance awardees will collect EC$600 each. Additionally, these awards are extended for a further two years of college education locally, at a value of EC$1,500.00 and EC$750 for the full scholarship and book allowance respectively.
Alexandro is the son of Charmine Charles, employed in the Quality Assurance department; Ginneke is the daughter of Ginel Cudjoe, an employee in the Accounts and Administration department; Kalyssa is the daughter of Kingsley Dyer of the Production department while Cornelius Browne, an employee within the Accounts and Administration department, is C'Jay's dad. Tevere's mom is Sussana Pope, a Production department employee at the East Caribbean Bottlers Inc.
Alexandro and Tevere will attend the St Vincent Grammar School; Ginneke will attend the St Vincent Girls' High School; while Kalyssa and C'Jay will attend the St Joseph Convent Kingstown and the Campden Park Secondary School respectively.
Chairing the ceremony was Phyllis James – Human Resource Manager who explained the facets of the scholarships awarded and congratulated the recipients and their parents. Remarks were given by Joshua Romeo a former full scholarship holder and son of ECGC's employee Julian Keith Romeo. He encouraged the students to continue to study hard, be respectful to themselves, peers and teachers and to avoid procrastination. The award certificates were distributed by Rachel Haslam – Marketing Manager who also congratulated each recipient.
The ceremony also included performances by two current awardees, DeShawna Caine and Shaielle Williams who did a musical rendition and a dance respectively. Each student was given an opportunity to speak; they thanked their parents for their support and ECGC for awarding the scholarships. Samanthia Lugay-Charles, ECGC's Occupational Safety Health and Environmental Coordinator gave the vote of thanks congratulating the students on their excellent performance and encouraged the parents to continue supporting the awardees.
These five students executed exemplary work in the CPEA exams therefore ECGC wishes them the best in their educational endeavors.
The ECGC has been granting financial assistance to children of its employees through full scholarships and book allowances since 1999.