Posted on
New GG promises to carry out duties with professional integrity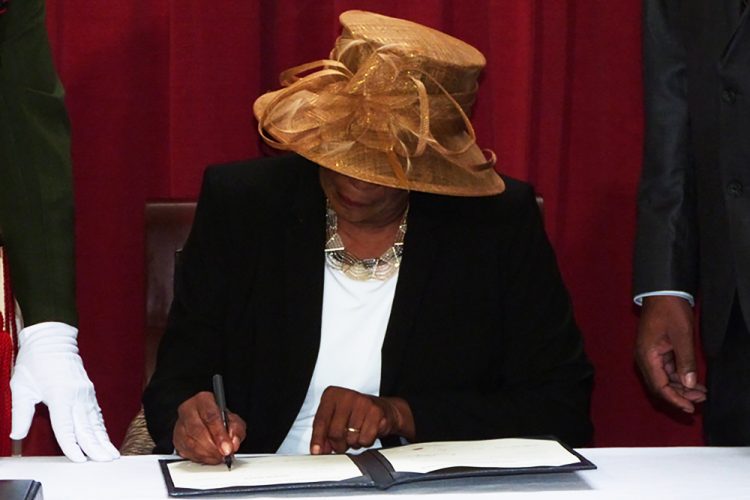 Her Excellency the Governor General, Susan Dougan OBE, has assumed office with a promise of valuing constructive opinions in order to make the right decisions in service to all Vincentians.
Dougan promised this while speaking during an installation ceremony which took place at Government House last Thursday.
At this ceremony, the oath of office and the oath of allegiance were administered by Justice Brian Cottle, after which Dougan officially assumed the role of head of state that carries out ceremonial duties on behalf of Queen Elizabeth II.
Dougan told the Government officials, members of the clergy, diplomats and invited guests present, and the people of St Vincent and the Grenadines (SVG), that she was "extremely honoured and privileged" to assume the post, and honoured that the Queen consented to her doing so.
She also thanked Prime Minister Dr Ralph Gonsalves for giving her "the honour of becoming the first female Governor General" of the country.
"I look forward to working with the Government, all Members of Parliament, and our National Institutions," in serving the people of SVG, she continued.
"Using the knowledge, skills, and experience I have garnered over 30 years as a public servant, I will strive to carry out my duties with professional integrity, valuing the constructive opinions of others, and in so doing, make the right decisions in service to Vincentians in all walks of life," she assured.
Dougan née Ryan, served as an educator for years, and as Headmistress of the St Vincent Girls' High School until 2004, when she was appointed as Chief Education Officer(CEO). Just five years later she took on the role of Cabinet Secretary, and then retired in 2013. She was sworn in as the Governor General's deputy a year later, and has acted as Governor General during her time in this office.
The former Governor General Sir Frederick Ballantyne demitted office on July 31, after indicating a desire to do so due to health reasons.
Dougan commended her predecessor "for (his) outstanding service to this nation, not only as the head of state but as a renowned cardiologist," and declared, "You have indeed carried out your duties with distinction, and have left a record worthy of emulation."
Ballantyne had already offered Dougan his heartiest congratulations when he spoke just before her, and he noted that she had acted as Governor General with distinction in the past. "From my knowledge of her I feel certain that she would be an excellent Governor General and that she would bring credit not only to her family but to the people of St Vincent and the Grenadines," Ballantyne stated.
The Governor General also thanked her family and friends who she said had been her support over the years. In remembering these persons, she noted that there were four persons who she wished could have been there. "My father Walden Ryan, who is deceased, my elderly mother Dorothy Ryan, Sir Vincent Beache and the Lady Vida Beache. Oh how I wish they could have been here today," Dougan disclosed.
Prime Minister Dr Ralph Gonsalves mentioned in his speech that when he was consulting widely to determine who he would recommend to the Queen to be the next Governor General, Sir Vincent Beache was one of the persons he spoke with.
"We have an excellent Governor General in Mrs Susan Dougan," Gonsalves declared, to applause.
"I have absolutely no doubt that the responsibilities laid out in the constitution, that our Governor General would fulfill those responsibilities with the highest degree of commitment, professionalism," Gonsalves stated seriously.
He continued, "but she will be more than that. She will be an active Governor General in a number of other areas, in the way Sir Frederick has been."