Posted on
NPS, the new face of the Office of the DPP, launched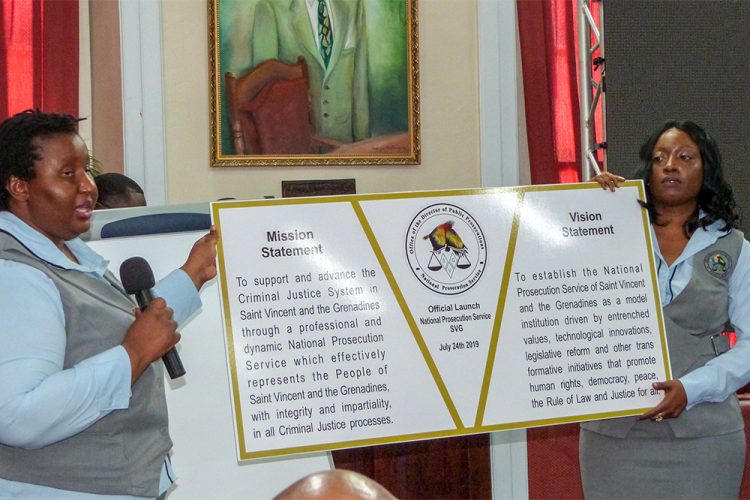 The National Prosecution Service (NPS), which is the new face of the Office of the Director of Public Prosecutions (DPP) was ceremonially launched last week after years of work and planning.
The acting DPP Sejilla McDowall was the first of many senior members of the legal profession to speak at the launch of the NPS on July 24.
Taking the podium at the House of Assembly, wearing the blue and grey uniform of the NPS, McDowall commented that the staff at the DPP's office had blossomed. With the addition of trained lawyers and members of the Royal St Vincent and the Grenadines Police Force (RSVGPF), they currently number 23.
Along the road to the formation of the NPS, were evolutions that the Office of DPP underwent, including their big move in 2015.
McDowall explained, "We were insistent that we were no longer going to occupy the premises of the Attorney General's chambers, whether or not we were going to have furnished accommodations," she recalled.
Following this move came the major change of the inclusion of trained police summary prosecutors affixed at the Office of the DPP, under the same roof.
The NPS was the brainchild of former DPP, now High Court Justice in Belize, Colin Williams. He noted that the launch last Wednesday was a "very special moment" for him, and "extremely touching."
Williams recalled that when the office first moved, all they had were borrowed tables and chairs from the Special Service Unit (SSU).
He stated that the idea for the NPS started in 2010 with the assistance of then Commissioner of Police Keith Miller, who facilitated the early training of the police officers. "We had a group of officers, we did training, and from them we identified persons who we would like to be part of the NPS," Williams commented.
However, it was when former Commissioner of Police, Reynold Hadaway took the baton, that things really began to fall into place, Williams said.
Hadaway expressed an eagerness to deploy his officers to the service of the DPP.
"Who you want, you will get, and he sent the persons off," Williams related.
The Office of the DPP has also been involved in many publications over the years, including the Code for Prosecutors.
"We are small but we're doing a lot of good things. Let us continue to do so. The road towards improving the criminal justice system never ends," Williams encouraged his former colleagues.
Chief Justice Dame Janice Pereira of the Eastern Caribbean Supreme Court (ECSC) noted in her remarks which were read by High Court Judge Brian Cottle: "I am certain that the National Prosecution Service, being the new face of the office of the Director of Public Prosecutions will enhance the efficiency and raise the visibility of this critical component of the justice system within the society."