Posted on
Rum made my client decide to stick up a credit union – Lawyer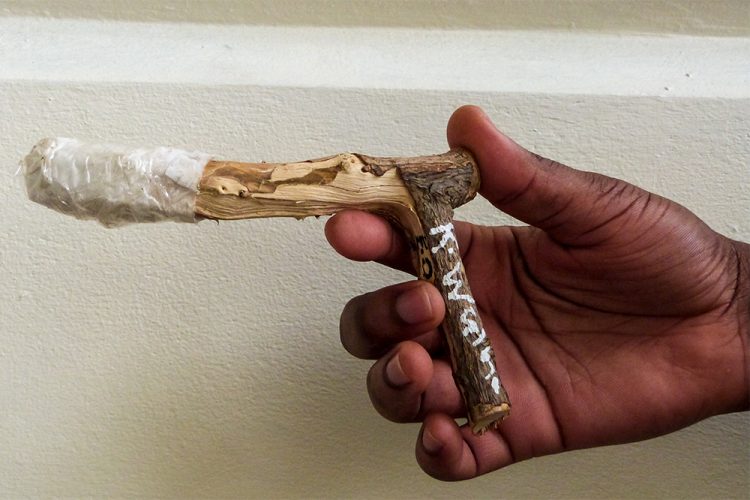 A lawyer argued against jail for his client last week, noting that it was after drinking rum that his client decided to stick up a Credit Union employee, while being armed with a gun-shaped stick.
Grant Connell pleaded with Justice Brian Cottle at the High Court that his client, Kimolow Quashie, a 43-year-old former policeman, was by "no stretch of the imagination" a hardened criminal.
This was apparent by the "almost comedy of errors" that took place on August 31, 2016, when Quashie ended up robbing an employee of the Kingstown Co-operative Credit Union(KCCU) in Canouan, and causing her minor bruises in a struggle, he stated.
"He went to the Credit Union armed with a stick and scotch tape," Connell said, before taking the weapon from evidence and displaying it to the Justice, musing, "I wonder if it resembles a .22, .45(gun calibres), or I don't know what exactly…".
The lawyer continued, that when this weapon was revealed, the employee at the Credit Union quickly acted, "and disarmed him, or…dis-sticked him, and a struggle ensued."
Quashie never meant to cause harm to the employee, Connell relayed, and when he escaped into the bushes afterwards, Quashie apparently realized what an "ignorant" act he had done, and was contemplating what to do, but then the police came with guns.
"He attempted to run, but… which again, is another act, not an act of wisdom," and was shot twice in the process, breaking his fibula and tibia, the lawyer stated.
Quashie's history with alcohol began in 2014, Connell informed, when he was thrown out of the police force, after being unable to account for his service pistol, after drinking rum.
The former policeman was dismissed after serving 18 and a half years, and he was only one and a half years away from being able to receive a pension, according to his lawyer.
On the day of the robbery, Connell said that his client had been drinking from the day before.
"This case also highlights the effects of this wretched thing called rum, and the effects it has on grown men," the defense attorney commented, and stated that men do things when fully intoxicated with the "wretched drink" and know nothing of what they did.
He said that the Rastafarians refer to rum as the devil's soup, and Quashie, "has sipped the devil soup, and we're seeing the effects."
"…Others trivialize it, some say it's cheaper than woman, others say when it hit you liver, it make you shiver…till you become a rummist, and then when things happen… they say is the rum do that," Connell added.
He further submitted that the clanging of metal doors would not have the desired effect on Quashie, who has been in the society for three years since the incident, without incident.
The facts as established by the prosecution, crown counsel, Karim Nelson, were then presented in the court by Justice Cottle.
On August 31, 2016, Quashie entered the offices of the KCCU with a vest covering half his face, and sunglasses, in order to conceal his identity. He was armed with a knife, as well as a wooden gun, and used these to demand money from the customer service representative.
The employee told him she had no money, and he proceeded to try to unsuccessfully open a cash pan, that he found while searching her desk. He did find her purse, and pocketed $1,140 that was inside of this.
Quashie then asked her to take him to the back, but she refused and struggled with him. In the struggle, the stick fell, and she was then certain that what he was holding was only a "wooden replica" of a gun. She then began banging on the windows to try and attract attention, and the two struggled again when he tried to get a hold of her. Quashie pushed her onto some furniture, and she received minor injuries to her back.
At that point the vest had fallen from Quashie's face, and the customer service representative recognized him as the security guard from a nearby firm.
Their struggle alerted passers-by and they began to gather, so Quashie tried to escape into some nearby bushes. He was apprehended by the police, and the money discovered in his pocket.
Justice Cottle reasoned that the court is aggravated by the fact that it was an armed robbery by a masked man, during which force was used. It happened in broad daylight, in a public place, and Quashie had used a replica gun to put the woman in fear.
On the other hand, the stolen property was recovered, there were minor injuries to the employee, and he had no previous convictions.
Having said this, the Justice still considered the aggravating features to outweigh the mitigating ones, and carried the 13-year starting sentence upwards to a 15-year incarceration.
However, Quashie's clean record brought this back to 13 years, and a discount for his guilty plea was applied.
The final sentence was one of eight years and seven months, with the last six years to be suspended for two years.
For the assault, he is to serve a concurrent sentence of one year and four months.