Posted on
Disabled man seeks the assistance of the public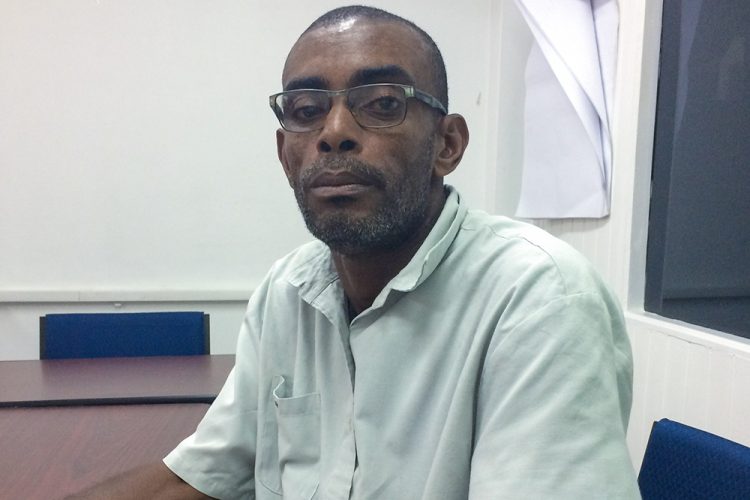 A 43-year-old man struggling with Cerebral Palsy is asking persons to help him seize an opportunity for independence; and donate materials towards a board house.
Vincent Bradshaw, an Enhams resident, uses crutches to walk given the disability that he has had since childhood. He informed, during a visit to SEARCHLIGHT last Friday, that his disability is Cerebral Palsy (a disorder of movement, muscle tone or posture that is caused by damage that occurs to the immature, developing brain, most often before birth). Bradshaw believes that an "injection" caused the damage to his brain.
"I'm trying not to be where I'm at now all my life," Bradshaw indicated. He explained that he was living with a cousin until last year, when this person suddenly passed away. However, their children knew of his disability, and they "decided well they have extra land so they decide well to lease me piece," Bradshaw disclosed.
This lease began in 2018 and it will run for 10 years, but Bradshaw has a plan. A plan starting with building a house. This house will be built on a concrete foundation, and will be able to be assembled and disassembled so that it may be moved after it is completed. He then plans to take up farming and raise money in this way, towards a permanent property.
The Enhams man, who has a house plan drawn by one Darry Richardson, and who already has volunteers from the community willing to assist with manpower, says that the entire project will cost over $55,000.
He says that he cannot raise the money or get a proper job because of his Cerebral Palsy, and that he would not use the land to farm right now because, "it don't make sense because I'll not get, because people will just go and take what they want so by the time you go nothing ain't there for you."
However, he has been trying, by contacting the Government, and hosting a concert, to get some help.
The concert, which was in March this year, was not successful as he had hoped it would be.
"I even wrote the Prime Minister last year and they sent the letter to the Ministry of Mobilization. Then an officer came, I show her … what I was gonna do, she told me to write the Permanent Secretary in the Ministry of Housing and ask for a low income house," Bradshaw recalled, noting that he was unable to receive a low income house.
However, he received some material from the Ministry of Mobilization, namely, ten sheets of plywood, and 13 lengths of 1 x 4 x 16.
"I have to find another 15 lengths of plywood, 17 1 x 4 x 16 and approximately three 4 to 600 six inch blocks and some things to make rails," he added.
"Tell you the honest truth my biggest dream was always to own my own property," Bradshaw revealed, so that "When you reach where you can't help yourself at no point in time, even if you bring in someone to help you could left something for them," he stated.
Monetary donations can be given through an account set up at GECCU, with the number 981400. Bradshaw may also be contacted via the phone number: 454 – 4909, and the email address: [email protected]