Posted on
Young Vincentian Architect creates history in Taiwan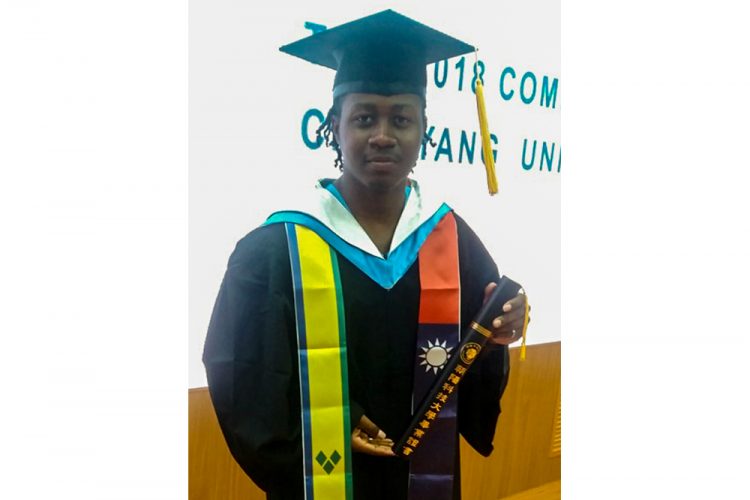 by Zuleika Lewis
"I feel extremely proud as a Vincentian and as a black man. I was able to create many firsts in Taiwan."
Those were the words of Vincentian James Campbell as he reminisced on his six-year academic journey in Taiwan.
After graduating from three institutions there, he is now the holder of a level two certificate in Mandarin Chinese, a Bachelor of Architecture from the Chaoyang University of Technology and a Master of Architecture specialising in Urban Design from the Tunghai University.
In 2013, Campbell received the Ministry of Foreign Affairs (MOFA) Taiwan scholarship and was among 17 other Vincentians given scholarships in that year.
Despite being allies for a number of years, the differences between Taiwan and St Vincent are a stark reality, however Campbell believed that receiving the opportunity was an amazing one.
"Not only did I get to learn academically, but I saw the outside world and experience different cultures. It was easy for me to adapt once I got the basic understanding of the language. Everything else just became easier," he said.
He admits that the journey of studying architecture was not very easy but he was not deterred.
"My Bachelor's degree was done entirely in Chinese, there were a lot of sleepless nights, but I kept telling myself to keep my eyes on the prize. And collecting those certificates were a real joy,"
Campbell a past student of the Barroullie Secondary school and the St. Vincent and the Grenadines Community College Division of Technical and Vocational Education, thanked his mother Ethel Campbell for being his support system and Peggy Carr for her guidance while living in Taiwan.
He also thanked Vincentians Moulton Mayers and Hermus Nelson for giving him the opportunity to work with them. His experiences included his first stint as an intern draftsman, formulating designs and working on multiple construction sites.
Campelle said his next big step is to fine tune the process of his business Camative Architectural Designs (CAD) which offers architecture, interior and landscape services. It was officially registered in early this year and can be found on FaceBook and Instagram @CamativeDesigns or via email through [email protected]