Posted on
Cuban couple bring a cigar experience to the social scene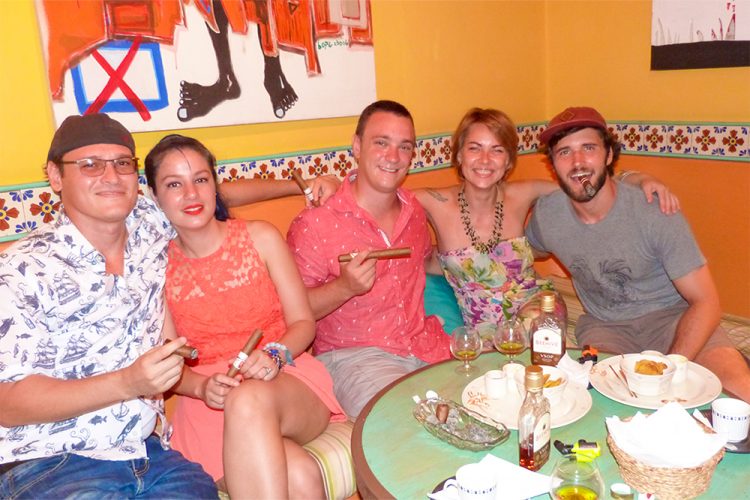 The Cuban cigar experience is being introduced to the St Vincent and the Grenadines'(SVG) social scene through gatherings hosted by a Cuban couple.
The cigar smoke of different Havanas circled in a bar room at the Grand View Beach hotel on the evening of June 20, as patrons of the "Cigar Experience" lit and cut their cigars, while pairing them with Brandy and black coffee.
This was the second time that the cigar bar popped up in SVG, as it first visited Bequia on June 2, when the cigars were coupled with cognac, whisky and rum.
Rey Escobar, a Cuban musician living in SVG with his wife and artist Daviana Basilio, commented that he believed that the most "authentic" element of the Cuban culture is "the cigar and rum."
"The best cigars in the world, probably the Cuban cigar. The cigar from Honduras and Nicaragua, pretty good too, but the Cuban cigars…," Escobar commented.
At the Grand View Hotel last week Thursday, there were Hoyo de Monterrey Doble Corona, Hoyo de Monterrey Epicure No 2, Romeo y Julieta Wide Churchchill, and Cohiba Robusto havanas.
These havanas ranged from soft, medium and strong, depending on the leaves of the Tobacco plant that were added or were not added.
The cigar smoking should be treated as an experience according to Escobar, because, "It's a social way that you're gonna have this (the cigar). Somebody else can smoke with somebody else…what you gonna drink? What is the flavour, the flavour that you're gonna gather in your mouth? And what you gonna eat?," are the contemplations considered.
The cigar smoke is not inhaled, and is kept in the mouth because the point is the flavour, he informed.
"You pair it with the liquor in your mouth, everything is here," he stated, pointing to the mouth. The coffee also helps prepare the body for the Tobacco.
"The cigar has three parts. The first one, is gonna give you the first smell, the first taste right? In the middle you will know if that taste gonna change a little bit. You can find it a little more spicy in the middle," the host stated. He noted that the last part of the cigarette is the strongest.
Those that participated in the experience, for which they paid $150, smoked cigars that lasted around 40 minutes or an hour and 20 minutes, but some can last for four hours.
According to those that attended the cigar bar, the price was reasonable compared to what is usually asked in foreign countries.
The couple has registered a business, "Havana Link" and they are looking for a location to start a club of sorts.
"We want to try to introduce and teach the people how to smoke the cigar…How to have that experience, you know?," Escobar stated, noting that it brings people together.