Posted on
Ex-police trying to get life back together after jail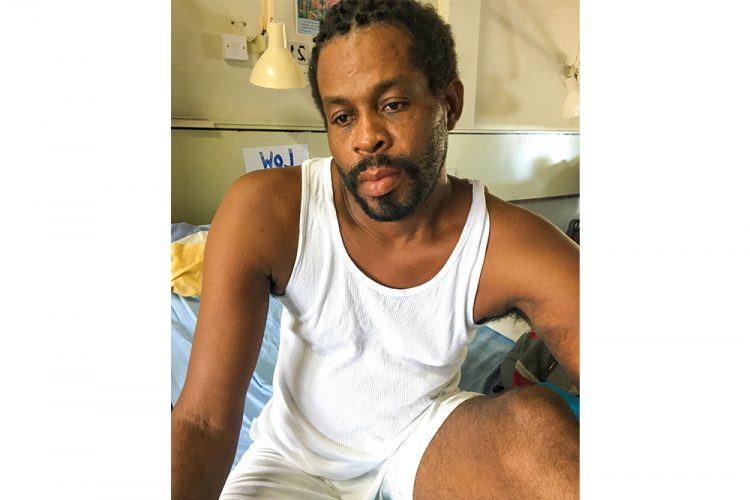 An ex-police officer, who was convicted on three charges in 2016, is seeking the help of the public to get his life back on track.
Barrouallie resident, Mayon Spring has spent the last three weeks at the Milton Cato Memorial Hospital, where he had the big toe on his right foot amputated.
The diabetic had to have the procedure as a result of an injury from a nail puncture he got while cleaning a woman's yard.
Spring, in an interview with SEARCHLIGHT yesterday, said that he has not been able to get a steady job to sustain himself since being released from prison at the beginning of 2018.
He was charged in 2016 for corruptly obtaining 25 rounds of 5.56 ammunition for himself by an omission in the discharge of the duty of his office, while employed as a police officer between November 27 and 29, 2016 at Calliaqua.
Spring was further charged for stealing the said ammunition, which is valued EC$26.50 and a third charge of conspiracy was also laid against him.
He was sentenced to three years in prison for possession of the ammunition, one year for conspiracy and nine months for theft. The sentences ran concurrently.
"I made an appeal to the Appeal Court and in January of 2018, … the Appeal Court heard the case…" he explained. "So having heard what I have to say and they see what they have to see, they wanted to give me a retrial, but because the time was almost up, they said it would be unfair, so they sent me home on time served and dismissed the theft charge and the corruption charge."
The 39-year-old said that since his release, he has done whatever odd jobs are offered to him, with the most recent one leading to the incident that resulted in him losing a toe.
He added that without a job, he has not been able to take care of himself in the way that he should as a diabetic.
"So the nail infect my toe and because of such, to prevent from infecting the whole rest of the foot, I had to have it amputated. This thing infected so fast that me myself can't even believe," he said.
At the time of his conviction, Spring had served over 16 years as a police officer. He told SEARCHLIGHT that police officers, once they resign after 10 years, receive a gratuity.
And he has been trying to receive this gratuity since he was released so that he can get his life on track.
"Before, in 2012, I would have happened to witness an incident in Layou, which led to some murder investigation and after coming out of prison, the people from the court come and tell me how they want me to give evidence in that matter," he said. "I told them I would do no such thing. I went to the commissioner of police, Mr Colin John and I sat with him and told him if they need my service in terms of me giving evidence, I must be assisted in terms of getting my 10-year money which is the gratuity and also to help me to get a clean record so that I could find a meaningful job to do."
Following his meeting, he was told to apply in writing regarding the gratuity and police record.
Spring said that he received a letter from the Attorney General in response, which stated that his request would be passed on to the Governor General.
However, he said that he has not heard been contacted any further in relation to either of his requests.
But he added that he made the decision to give evidence in the murder case.
Spring will undergo another procedure on Friday to clean the wound and ensure that the infection has not spread to his other toes. And if all goes well, he should be free to go home next week.
But he is seeking assistance from the public that will help him to provide for himself.
"Basically, I don't know what help can be offered. If nothing further with the foot and I can walk, I know I will be able to help myself in whatever is to be. I am not a dunce person, I'm easy to learn and if given the opportunity to do whatever, I would be able to," the ex-police officer said.
He added that he is not necessarily interested in money and would rather the offer of a job because he likes to work.