Posted on
Kingstown celebrations of Fisherman's Day hailed a resounding success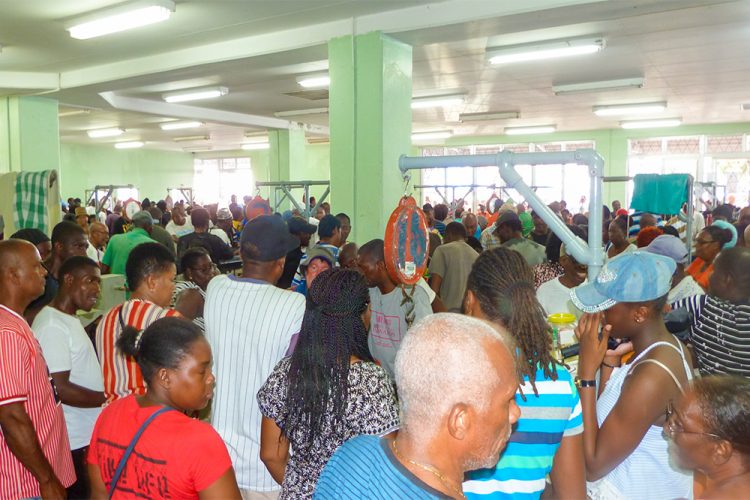 by Katherine Renton
Fisherman's Day was held in Kingstown for the first time in 10 years last Whit Monday, and the Chairman of the Fisherman's Day Committee says he and the fishermen felt "so complete."
Delivering his address at the closing ceremony for the 44th annual Fisherman's Day, 2019, in a tent just outside of the Kingstown Fish Market, Chairman, Raoul Lewis stated that he wasn't even going to read the speech he wrote.
"I was told that this could never happen in Kingstown. After 10 years, this is the first time Fisherman's Day is being held in Kingstown. It took a lot of work but we made it happen," Lewis commented.
"Prime Minister, we are so happy for this, the fishermen of Kingstown are so happy for this. We are so complete…there's not even…there's no fish left in the market. This is the first time that this has happened in 10 years. In the past, all the fish would come down to Kingstown and be stored to sell the next day. I think we probably need to have Fisherman's Day twice a year" he stated.
These remarks came after there was some splintering amongst the fisherfolk as to where they would take part in activities on Fisherman's Day. After the decision was made to transfer the national activity from the Calliaqua playing field and have it in Kingstown this year, around 30 fishermen from Calliaqua decided to take part in their own private fish fest instead of the national competition.
Lewis noted that "they" will be looking to have the competition bigger and better for the 45th anniversary.
Former fishermen who SEARCHLIGHT spoke to were also satisfied with the crowd at the event.
Verrol "Duba" Browne said he was feeling "real good" that Fisherman's Day was in Kingstown this year as he stood on the dock watching the fishermen pulling in their catch.
However, on the subject of the fishing conditions last Monday, Browne stated, "The ting about it, the catch is real small, it ain compare to 2004, 2003 or them times coming down…even to up to 2009…that the last time I take part in it… it was much better in all them times, the fishes."
Fisherman's Day recorded a total catch of 4180 pounds, which was less than half of what it was in 2018, 8533 pounds. One more boat entered compared to 2018, and so there were 57 boats entering this year. However, when it comes to fishermen, participants were two fewer than last year.
Browne commented that this reduced catch could be a result of the competition being in June, a later date than other years, and when "less fish does pass."
Another former fisherman Verrol 'Chanee' Williams felt that the crowd was "nice." He also thought that the cause of less fish being caught was because of the timing of the competition. He said during this phase of the moon, fish are not so plentiful.
However, the vendors were very satisfied with the business that they were able to complete on Fisherman's Day.
Adino 'DinDin' Grant recalled cleaning over 100 pounds of fish when he spoke to SEARCHLIGHT last Wednesday. "Last year more fish catch, but I find more fish sell this year. This year all fish sell off. And it was perfect, people come out, people from all over come out and buy fish, the fish was not enough," he commented.
"For what I see this year, I would like them for try it again in town because the crowd will turn out to experience," Grant noted.
Another vendor, Winston Charles, explained that, "To me it was good, becah since they move it from here and carry it Calliaqua, I don't go out there…but it come in [Kings]town and is one ah the biggest crowd I see for a long time."
"I hope that next year they could do the same thing again bring it back in [Kings]town because Calliaqua had their own ting out there so…them wah segregate let them segregate," Charles, who worked for more than four hours on that day, stated.
"The crowd was lovely…'cause people rushing to get fish but I know some people didn't get," Vincent Culzac, another fisher and vendor, disclosed.
Minister of Fisheries Saboto Caesar gave his "take" on the location issue when speaking at the closing ceremony. The Minister remembered that when Heroes Day began, everyone went to Dorsetshire Hill and then on to Fancy but now there is a "mushrooming" of activities.
"I don't want any rift in the fishing community or any fight between the fisherfolk because united we stand, and divided we will fall," the Minister stated.
He, the Chief Fisheries Officer and the Permanent Secretary in the Ministry of Fisheries had also been discussing the exclusion of the fishers from the Grenadines. "We can't exclude persons, we have to include persons. And there is a plan in place where we are going to see more fishing communities activate their bases, work through the Centres, so that we can fully participate," Caesar concluded.