Posted on
Bobb achieves success by maintaining a balanced life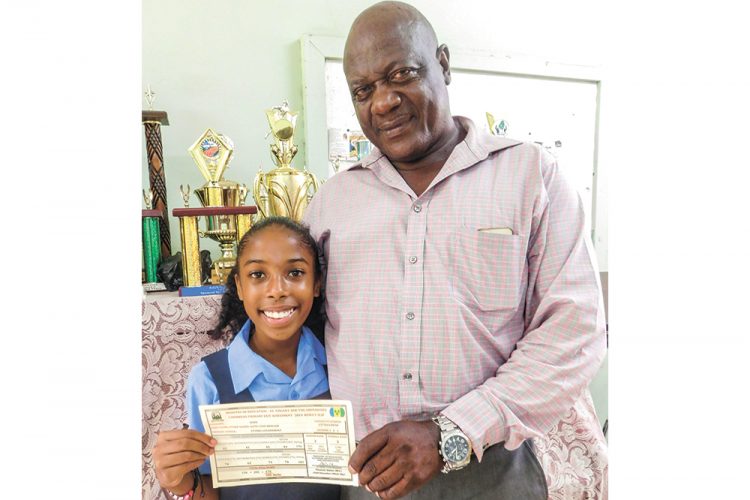 Most children give up extracurricular activities to focus on studying for the Caribbean Primary Exit Assessment (CPEA) examinations.
But if the resounding "no" was anything to go by, that was just not an option for Kate-Lynn Bobb, a Grade 6 student from the Stubbs Government School.
And, the 11-year-old demonstrated that she is more than capable of balancing both academics and extracurricular activities when she placed second for girls and second overall in this year's CPEA exams.
"I did a lot of work, especially in the Maths because I was not so good in the Maths but everything else was good, just needed to brush up on the Maths," she told SEARCHLIGHT.
Her overall average was 95.6 per cent and she was among five students who recorded the highest score for Language Arts; 98.67 per cent.
The daughter of Camiller Bobb said that although she was "very excited" and "very happy" with her performance, she was confident that she would be a part of the top 10.
Bobb, who was born on February 29, 2008, said she didn't think that anything was too difficult on the days of exams.
However, she cautioned other students to remain focused and put in lots of work if they want to be successful in their CPEA examinations.
"Don't slack off because when you slack off and you get your results, you're going to cry. You need to put in all the work now so you can get good results," Bobb said.
When asked about the activities she was a part of during the school year, she jokingly replied "it's a lot!".
And the Calder resident, who likes singing, listed choir, cricket and adventure club as some of those many activities.
"I would like to thank teachers who have put in the work to help me and I would really like to thank my mommy and Ms Murray from the Calder School, Mr Clyde Fitzpatrick who gave me Maths classes and I'm thankful for God. He really guided me through the exam," Bobb said.
Andrew John, the principal of Stubbs Government School described Bobb as a model student, who represented and won several competitions for the school.
While expressing how proud he was of her performance, the principal described Bobb as a determined and involved student who demonstrated consistency in her work all throughout primary school.
Apart from having a top student in this year's CPEA, the Stubbs Government School recorded a 93.3 per cent pass rate.
John said this was a slight decrease from last year's 95 per cent.
"I would just like to say that the teachers, we have been building morale and we have been building camaraderie and we have been trying to see if we could get a new sort of look for the school, a new image as it were, where we feel our children could do well. Putting that together with a lot of hard work, we have been seeing it bearing fruits because since I have been here, we have moved from 68 per cent to right now where we are at 93…we are seeing that and we are seeing improvement all along," he said.