Posted on
Local band invited to visit Ghana (+Video)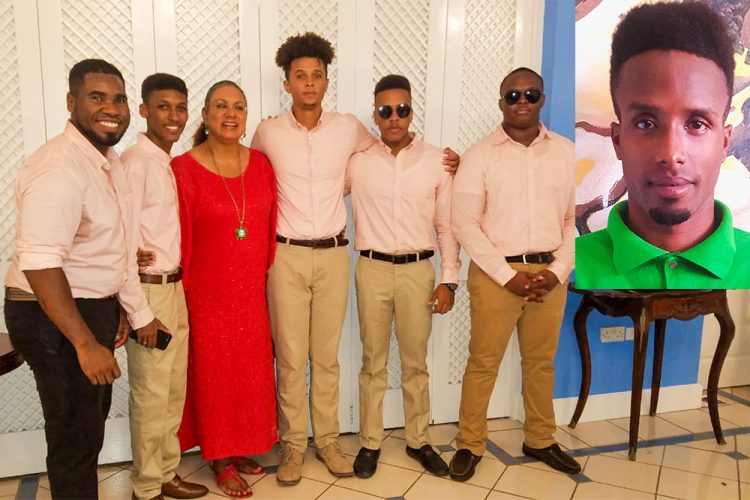 The local boy band Resonance has played its way into the heart of President of the Republic of Ghana, Nana Addo Dankwa Akufo-Addo.
And, as a result of their performance, the band is going to Ghana.
Resonance is made up of drummer Deion Allen, bass man Akil Augustus, panist Saeed Bowman, guitarist and lead singer Jordan Hamlett, and keyboardist Geran Maule. The night's performance saw the introduction of Shane Wynne on percussion.
On Wednesday night, during a reception that was being held at the Prime Minister's official residence in honour of the Ghanaian President, Resonance performed two songs, "Oye" by the Remission Choir and "Pata Pata" by Miriam Makeba.
According to Saeed, when they were contacted to perform, the band reached out to some Ghanaian friends who they met last June at a Global Young Leaders conference in Washington to find out what songs were trending in Ghana.
Through the interaction, they learnt that one of the President's favourite songs was "Oye" by the Remission Choir so they set about learning the song on Tuesday night, one day before having to perform it. The other song was learnt on Monday.
Saeed said that before the performance on Wednesday night, they had technical difficulties and were a little worried, but it is now evident that they overcame that.
"Based on the reviews, I feel really great. I can't form words right now, but I think that was the best performance the band has ever had," Saeed said.
After the performance which had the Africans in the crowd, including the President and Prime Minister Dr Ralph Gonsalves dancing, the President greeted the band and left.
Master of Ceremonies Dionne John then announced that the President had asked her to inform the band that he was extremely impressed and had awarded them a trip to Ghana.
"It caught us by surprise. We weren't expecting that. It sounded like a joke at first. We are very excited, and everybody is elated. It's just crazy," said Saeed.
Resonance has been around for two and a half years. The group was formed when the boys were still students at the St Vincent Grammar School (SVGS).
They are versed in most genres of music and have graced the stage at various national events including the Miss SVG pageant and the National School Bands Showcase. The trip will be organised through the Prime Minister's office.