Posted on
Vinlec and rsvg fire Department partner for firefighting simulation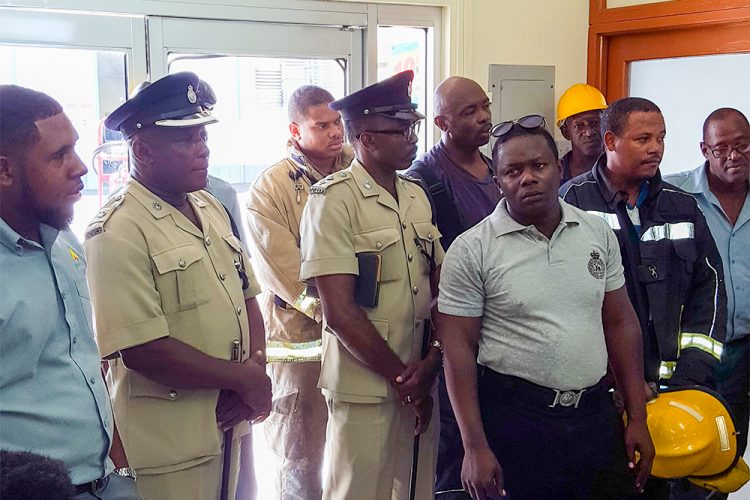 On duty staff at the VINLEC's Cane Hall Power Station sprang into action on Tuesday, May 28 after the fire alarm was triggered.
This action signalled the start of a Firefighting Simulation that included the Fire Department of the Royal St Vincent and the Grenadines Police Force, which was called to respond at 8:21 a.m.
The simulation was executed with a view to strengthen the capacity of both parties to tackle an actual fire in the Power Plant environment. Once the alarm was tripped, staff at the compound were required to follow VINLEC's established protocol which includes evacuating to the muster point, removing vehicles within the compound, human rescue, among other things.
Four members of staff, who were trained in industrial firefighting, served as first responders. Donned in firefighting suits, they commenced tackling the designated area, Unit # 9. Once the fire truck arrived on site, the necessary updates and information was provided and the simulation exercise continued.
At a debriefing session, Plant Engineer Inga Jackson, expressed that overall, the simulation was effective and highlighted areas of the operations which were conducted well, in addition to those for improvement. She pointed out that VINLEC's firefighting team got suited very quickly and was at the simulated fire in adequate time, which is critical in fighting fires. Meanwhile, Fire Chief SOP Joel James was satisfied with the quick time at which it took his unit to arrive at the location. He said that the exercise provided excellent opportunities for learning and also highlighted some areas for improvement.
The firefighting simulation was one of the activities hosted during VINLEC'S Environmental Health and Safety Awareness Month, which culminated on May 30 with a closing ceremony. It was commemorated under the theme "Safety Ties Us Together – Health and Safety 24/7."