Posted on
'Blazer' wins big in Super 6 draw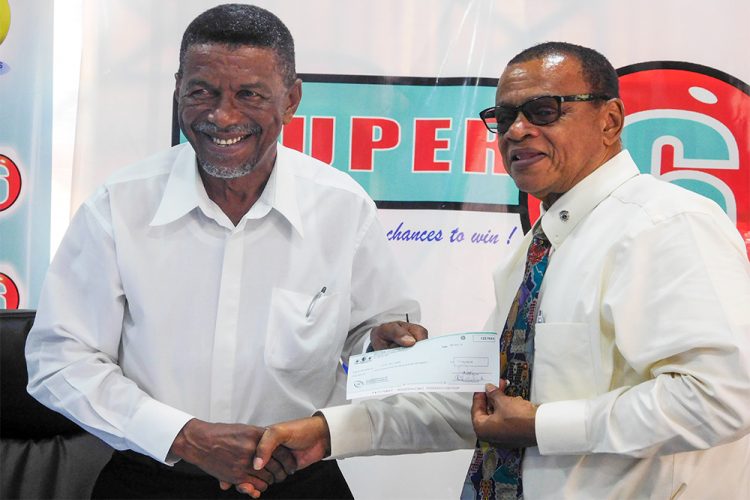 What started out as an urge to support sports and culture in St Vincent and the Grenadines (SVG), has resulted in just over $100,000 for one of this country's prominent lawyers.
Cecil 'Blazer' Williams is the latest Vincentian winner of the Super 6 game, having bought a ticket with the winning numbers from a draw that took place on April 12.
He is one of two winners for that draw, with the other winner being from St Lucia.
And both winners received $105,000, half of the $210,000 jackpot.
"I've been playing since day one, 1984. The first day National Lotteries started, I've been playing national lotteries games. And somebody said boy, you sure that they shouldn't give you more money than that? Because I'm sure you've spent more money buying tickets than what you getting. That's a good laugh," he said.
The winning numbers were 13, 14, 15, 17,19 and 25; numbers that Williams said he has been playing consistently over the past 15 years.
Those numbers also hold meaning for him as they are representative of the birthdays of his wife, his mother and his children.
"The 13, my birthday, my wife's birthday, my mother's birthday;…14, National Heroes Day, 15, my son's birthday, 17, my daughter's birthday, 25, daughter's birthday, 19, yup all of them are birthdays," he explained.
Proceeds from NLA games are used to support individuals in Sports and Culture and by extension, to contribute to national development.
Williams said he has been involved in both sports and culture all his life and that is the reason he began and continues to play NLA games.
"I have been playing National Lotteries and honestly, it's not so much about winning to me, I've just been playing because it's about sports and culture basically. I don't get too excited about these things," he said.
As to what he will do with the money; the lawyer said that the first thing that comes to mind is paying off his daughter's student loan and thereby releasing his property from the credit union.
McGregor Sealey, manager of the NLA attests to Williams being a supporter of NLA games, saying that "he has been playing this game for as long as I could remember".
Sealey congratulated SVG's latest Super 6 winner and said that he knows Williams will do a good job of managing how it is spent.