Posted on
Health checks, Fruit Day part of VINLEC's health awareness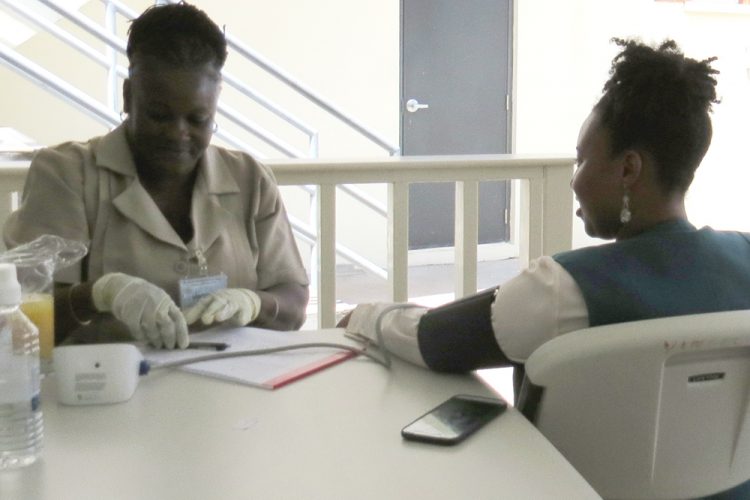 Members of staff at St Vincent Electricity Services Limited (VINLEC) were provided with the opportunity to have basic Health Checks on Tuesday May 21. The day was also a Fruit Day company-wide.
These activities were done to encourage employees to monitor their blood sugar and blood pressure levels continuously, to eat healthy and to promote healthy living. They are in keeping with VINLEC'S Environmental Health and Safety Awareness month, which is commemorated in May. This year's theme is "Safety Ties Us Together-Health and Safety 24/7."
Health Care professionals from the Ministry of Health were at VINLEC's Corporate Headquarters, Cane Hall Engineering Complex and other locations on Tuesday to administer health checks to staff members. Mixed bags of local fruits were also distributed. Staff at the Cumberland and Canouan Power Plants received their Health Checks on Wednesday, while the Lowmans Bay Power Plant staff will be checked today.
The health care personnel recommended that individuals seek care at their district clinic or doctors every six months, if hypertension and diabetes are common in their families. They elaborated that if upon regular checkups the blood sugar and blood pressure are high, then persons should increase visits. Exercise and a well-balanced diet, they emphasized, are important to avoiding lifestyle illnesses.
Activities to commemorate VINLEC's Environmental Health and Safety Month continued yesterday, Monday, May 27, with a Wellness Workshop.
Today, Tuesday, May 28, there will be a fire response simulation with the Fire Department at the Cane Hall Power Plant. The month will culminate on May 30 with in house public speaking, poetry and drama competitions. VINLEC is encouraging all to consider the state of their health in an effort to improve the quality of life and to prevent developing lifestyle diseases.