Posted on
Corea & Company Ltd and King Ocean Services celebrate new partnership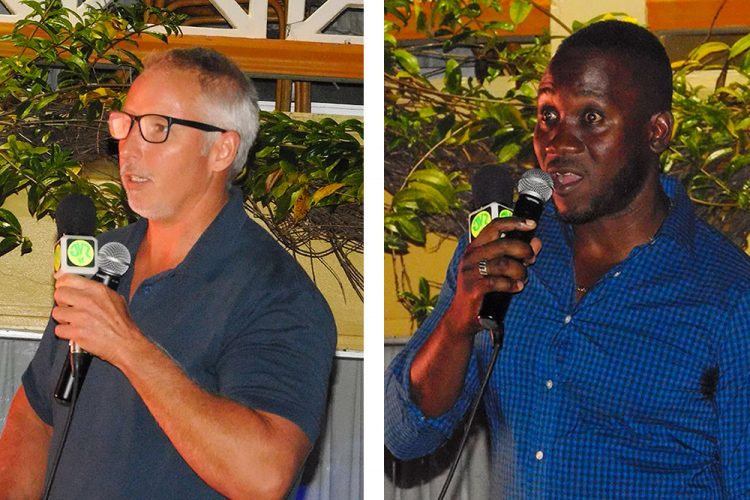 As the new shipping agents of King Ocean Services, Corea and Company Ltd is promising swift, reliable and quality service.
The shipping agency and King Ocean began their partnership officially on April 1. And this new partnership was the cause for celebration at a cocktail this week at Sunset Shores.
Kevin Dickson, the financial comptroller of Corea and Company Ltd said that the partnership had been in the works for some time and they had to make sure that everything "lined up properly before we could commit to this relationship".
"We bring professionalism to anything that we do and once we touch it, it has to be gold. That's how we function. In any line of business that we are in, we are either number one or number two or we get out," Dickson said. "The benefit to all of you here tonight is that you have the best shipping agency coupled with the best shipping line. What you can expect from that? Great service, on time service."
King Ocean Services offers cargo transportation from South Florida, where it departs on Thursdays and arrives at the Campden Park port in Kingstown on the following Thursday morning.
And Dickson guarantees that when goods arrive on the vessel on Thursday mornings, all the documentation will be ready in time for customers to clear their goods on Friday.
"…Because you need your goods in your stores, supermarkets and wherever else to catch the weekend and that's our commitment to you. With King Ocean and Corea and Company, you will get it," he said.
He added that since Corea and Company Ltd took over as agents of King Ocean in April, the vessel has arrived on time every Thursday, except once, when it arrived a day earlier.
Charles Gittens, head of the Eastern Caribbean LCL Sales and Operations thanked Coreas for hosting the event.
The King Ocean representative gave a brief overview of the services offered, King Ocean's history and schedule for St Vincent and the Grenadines.
He said the carrier was started in Curaçao and is currently the last Caribbean shipping company coming out of the United States.
And services include full container loads, less than container load (LCL) consolidation, repacking (full container load only), inventory management and document processing.
Gittens also distributed plaques to some of its longstanding customers from SVG as a token of appreciation for their service throughout the years.