Posted on
Vincentian in Trinity fifth term ceremony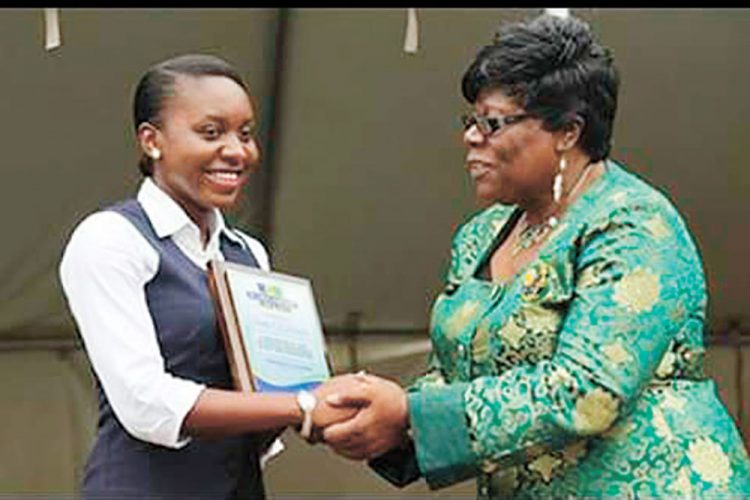 Shanka Edwards is a Vincentian student at Trinity Medical Sciences University (TMSU) located at Ratho Mill. On Tuesday, April 23, she was among the 38 medical students participating in Trinity's spring 2019 Fifth Term Ceremony, an activity that would herald the future physicians into the next phase of their journey.
At TMSU, the medical student spends a period of five terms studying the basic Sciences. These are enhanced with clinical rotations undertaken at the Milton Cato Memorial Hospital which allow for observation and patient interactions.
As far as journeys go, Shanka, who hails from Mt Pleasant in Marriaqua, began hers in 2015 when she joined the pre-medical program in the Faculty of Biomedical Sciences at Trinity. This opportunity became possible after she was named a 2014 Island Scholar. She achieved this after success in her studies in Pure Mathematics, Physics, Chemistry, Computer Science and Communication Studies at the SVG Community College.
For this determined young lady, medicine was not her primary career choice. It was after some exposure in the field, and the recognition of the need for certain specialties here in St. Vincent and the Grenadines that she shifted her focus and sought to achieve that goal with commitment.
She described pre-med as "hard" but with the enriching environment afforded by small class size, one-on-one interactions with faculty among others she, in the same breath showed how serious commitment carved it into her passion.
From pre-med, Shanka joined the Class of 2021 who received their white coats, commemorating their official entrance into the medical field in September of 2016. This is usually an emotional time for any medical student and for Shanka, it was no different. She reminisced by saying, "Getting my white coat I think, put it into perspective: this is really happening, the journey is really now beginning and from now on its all on me to push through and make it happen. It was a really a great feeling!"
Words such as tour, trek, sail and expedition are all used synonymously with journey. Shanka could easily say that hers was neither a tour, nor did she sail through anything. She has come out on the other side from five terms with the Faculty of Medical Sciences rewarded, not only with academic success but also with an ardent resolve that hard work brings success and determination fuels passion. When questioned about advice she would give to anyone pursuing their passion she said, "I would say once it's something that you know you're passionate about and are willing to work towards, no matter how difficult the journey may be or long, then go for it because when you're doing something that you're passionate about the 'how' would be overcome by your 'why'."
Now, along with her classmates, Shanka will move on to Baltimore, Maryland in the United States where she will commence her pre-graduation journey into the clinical phase. As far as Shanka is concerned, she is expecting changes. "I expect a change of pace of everything really, from the culture to the people I would encounter. I'm also looking forward to coming into contact with and experiencing interesting cases; although each case in itself is always a learning experience. I'm also eager to see and experience the difference if any, between the Milton Cato Memorial Hospital, our local clinics and those in Baltimore.