Posted on
Harold Hoyte – A top of the line journalist – PM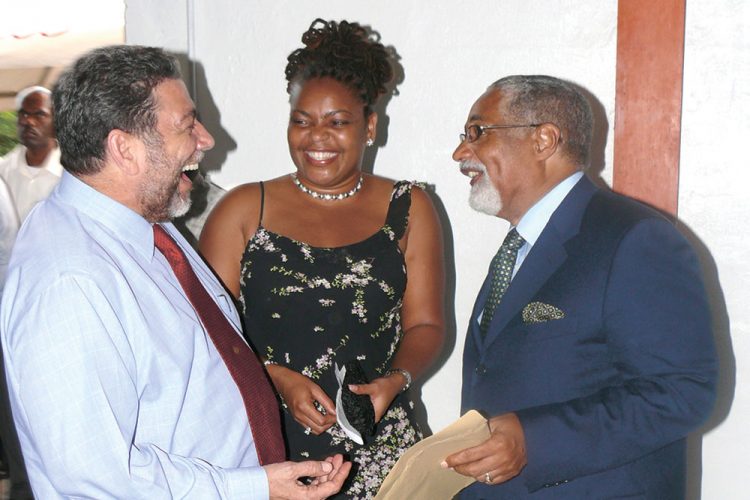 The region is unlikely to see another journalist of the quality of Harold Hoyte for quite a long time.
Prime Minister Dr Ralph Gonsalves, in a tribute, said Hoyte, who died last Sunday at his home in Barbados, was a "top of the line" journalist.
Hoyte, who was 78 at the time of his death, was one of the founders of the Nation Publishing Company Limited and served as the Nation newspaper's first Editor-in-Chief. He held various positions, including President and Editor Emeritus, the latter until his death. He was also chairman of the board of Nation Publishing and a director of One Caribbean Media (OCM), the parent company of The Nation Group.
He had been ailing after suffering an aneurysm while on holiday in Florida in December 2017.
In an interview with SEARCHLIGHT on Tuesday, Gonsalves said journalism and public information in the region would feel Hoyte's passing adversely. "He was an excellent communicator, a fantastic journalist; very fair, balanced; he was top of the line," the Prime Minister said.
Gonsalves said Hoyte's death comes at a time when many journalists are not so interested in investigating things and getting facts right.
"They are more interested in expressing opinions, their feelings, on the flimsiest of evidence. Harold Hoyte always wanted the facts, always wanted the evidence, and then he would express an opinion. He was superb. We are unlikely to see anyone of this quality for quite a long time."
"…When he and others founded The Nation, it was like a breath of fresh air, to compete against the Advocate in Barbados, and the Nation became one of the better newspapers in the entire Caribbean and indeed in the Western Hemisphere."
Prime Minister Gonsalves said in 1976, when he began lecturing at the University of the West Indies in Barbados, Hoyte invited him to write a column in the Wednesday newspaper which had just started. He did this for three years, under the rubric 'Straight Talk' which he said brought many young readers to the paper.
"The column ran for three years until I left Barbados to prepare for the general elections of 1979. But even after I left Barbados, I continued to write for the paper, even for some months into 1980. He was always very kind to me.
We had a lot of discussions, and during elections, he came over to St Vincent. He was always interested in knowing what I was doing; always very supportive, without in any way being biased. He was a tremendous Barbadian patriot and regional integrationist," Gonsalves said.
The Prime Minister shared that he knew Hoyte's first wife, who was a mature student in his class at the University of the West Indies, and that Hoyte and his widow Noreen, spent some time with him at his home at Gorse about one year ago.
"He will be greatly missed. Certainly, I will miss a good friend," Gonsalves said.
Hoyte is survived by his widow Noreen, children Tracey and Bobby, sister Sheila Brewster, other relatives and friends.
He will be laid to rest on Monday, May 27 at the Coral Ridge Cemetery after an official funeral at the Garfield Sobers Gymnasium at Wildey, in Barbados.
Two weeks ago, in honour of Hoyte's sterling contribution to journalism in Barbados and the building of one of the most successful black companies in the country, Nation House on Fontabelle, St Michael was renamed the Harold Hoyte & Fred Gollop Media Complex.