Posted on
Coreas & Hazells Inc presents almost $5,000 in bursaries to three UWI students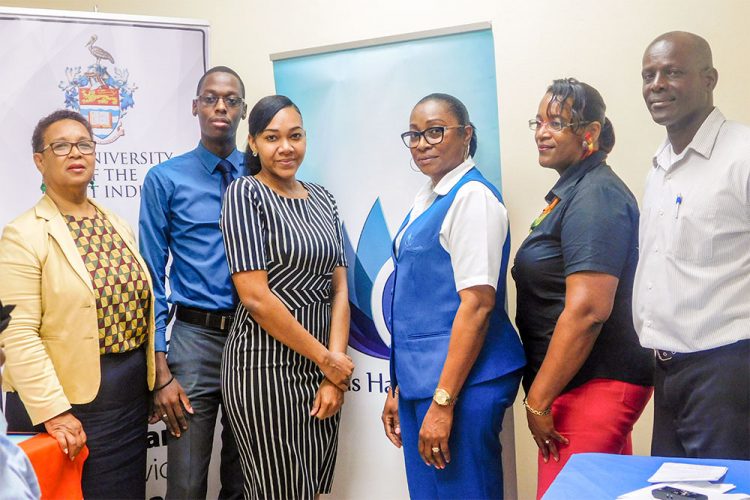 For three students at the University of the West Indies Open Campus, bursaries worth $1,500 each from Coreas & Hazells Inc. could not come at a more opportune time.
Coreas Hazells Inc handed over almost $5,000 in bursaries to Cassandra Decoteau, Janine John and Delroy Myers at a short ceremony at the Open Campus on Tuesday.
Deborah Dalrymple, head of site, said that there are times when students go through financial situations, particularly those who go to the Open Campus and have other responsibilities such as a mortgage and children.
She added that when people become financially strapped, courses at the university are the first thing they think to give up.
"These bursaries by other corporate sponsors and in particular today, Coreas & Hazells Inc, they sometimes make the difference between finishing your programme, taking a course this year or deferring to the next year," Dalrymple said. "When I approached Mr Providence since 2014 and talked about what we're doing at the Open Campus, I think he recognised that whereas we talk about education being a way out of poverty…we also realise that education is crucial to our national development."
The head of site expressed gratitude to the local company, which she says gives three bursaries every year in the second semester.
And she said that the university was working on partnering with other corporate sponsors to provide more bursaries for students.
Juno DeRoche, Coreas & Hazells Inc customer service and retail manager said the bursaries are a contribution to the students' continued educational journey and she hopes would help them significantly.
"I know it's not easy studying, having to work and juggle daily life chores but sometimes we have no choice and we have to do it that way, and I applaud persons who work and still have activities going on and still look forward to continuing their education…" DeRoche said.
She extended best wishes to the bursary recipients, who she hoped would graduate soon.
Cassandra Decoteau, one of the recipients, thanked Coreas on behalf of the university and her fellow recipients.
She said that for her, the bursary has come at an opportune time because she is currently unemployed.
"So this bursary would definitely go a long way and we are going to do our utmost best to strive for the top, to make we ourselves proud as well as Coreas & Hazells Inc, knowing that they have gone this far to assist us in one way or the other," Decoteau said.
Decoteau is pursing a bachelors of science degree in Management with Economics. The other recipients, Janine John and Delroy Myers are pursuing bachelors of science degrees in Accounting and Management Studies (International Relations) respectively.