Posted on
Calypso tents getting ready for the 2019 season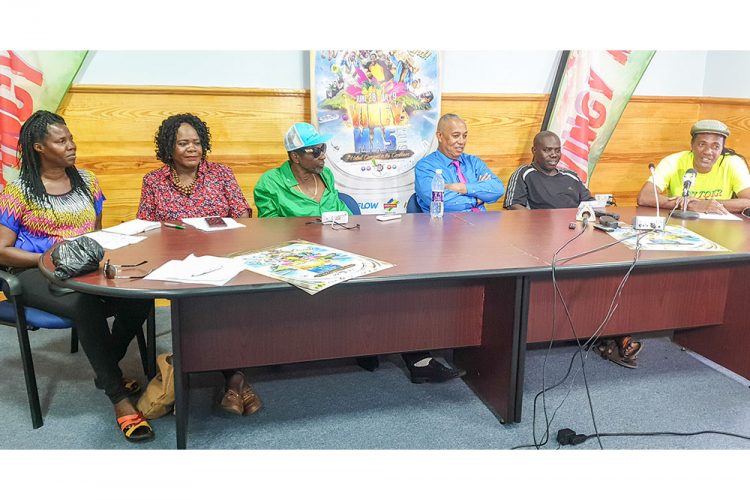 This country's calypso tents are ready for the 2019 Carnival season.
And, president of the St Vincent and the Grenadines Calypsonians Association (SVGCA) Earl "Caba" Bennett has called on the public to support the art form.
"I want to encourage persons to come out in your numbers. Last year was a revelation," Bennett said on Wednesday at a press conference.
He noted that in preparation for the 2019 season, the Association will hold a workshop tomorrow, May 18 at the Teachers Cooperative Credit Union building in Kingstown.
The workshop is aimed at attracting new judges, and will look at the judging criteria among other things. It will be facilitated by music professional Junior Sutherland.
Speaking at the press briefing, which was held at the Carnival Development Corporation's (CDC) conference room, Gailene Windsor of the Dynamites Calypso Tent of New York said that her outfit is ready for Vincy Mas 2019. The group will have their preliminary judging on June 7 in New York and will see 15 calypsonians taking part, while only 12 will compete.
Georgietha Nanton of the Windwards Calypso Tent said that 15 singers are part of their group this year. The tent will have their official launch this Friday May 17, and will also have a show on May 31 at the Russell's Auditorium at Stoney Ground. June 14 will see preliminary judging at the Spotlight Stadium in Georgetown.
Glenroy "Homey" Delpesche of the Graduates Calypso Tent said this year, 19 calypsonians will compete from their tent. Their first show will be on May 28, their second on June 4, while preliminary judging will be held on June 11.
The On-Tour Calypso Tent has 20 members and will host three shows at the Russell's Auditorium. They will have their first show on May 30, the second June 6 and June 13 for preliminary judging.
Grantley "Ipa" Constance of On Tour said that calypso is an artform that is for the people and he is encouraging the public to give their support.
"It is the cry of the people who are being oppressed not the cry of the oppressors," said Constance. He urged the public to come out to the tents as it will be entertaining, educational and satisfying.
The Upstage Xperience will hold their next shows on May 29 and June 5, while they will have their preliminary judging on June 12. They have 20 calypsonians.
The Junior Calypso competition will be held on July 2, The Ragga Soca and Soca semi-finals on June 22 at Rawacou and Fantastic Friday/Calypso Semis on June 28. Soca Monarch is July 6 and July 7 is Dimanche Gras.