Posted on
Night market is a major boost for businesses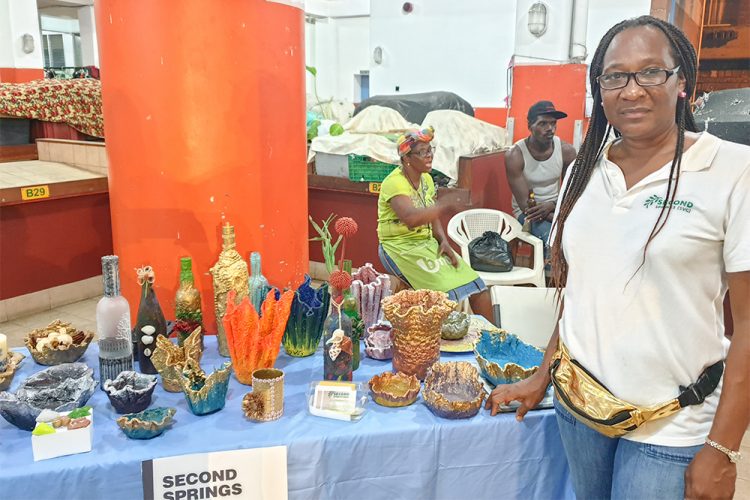 Several vendors who took part in Invest SVG's first night market think the initiative is a boost to local businesses.
The night market was held at the Kingstown Vegetable Market on April 29 and Natalie Cato of Red Bikini rum punch said the event presented an opportunity to showcase local products and services.
"The night market is giving us a really good opportunity to showcase our product and people like the whole thing of it being in the night so there is a vibe," Cato told SEARCHLIGHT.
She described her rum punch as a premium mixture and noted that it was well received by persons who received samples.
Red Bikini is available at CK Greaves and Randy's Supermarkets while those wanting to source it may call 529-8418. The prices range from EC$5 to EC$40.
Another vendor, Brenda Myers of Second Springs SVG said she was glad for the opportunity to showcase her products. Myers sells craft made from volcanic ash and other materials. Her products include bathroom sets, toilet paper, shaver and cream holders, soap dishes and candle holders among other things.
"I sell ash trays, pencil holders and things made from recycled bottles and cans and I am glad that I could have showed off my items here,' said Myers, who added that her Facebook page is called Second Springs.
Merle Gellizeau of Merle's Arts and Crafts displayed bags and baskets made from local plant material/straw.
"It is an exciting time for me. I feel very good about it. I think they should have things like these more often," Gellizeau said of the night market.
Minister of Finance Camillo Gonsalves who attended the event said he is hoping that it continues as it can add vibrancy to night life in Kingstown.
"Not everybody wants to go to a fete or to Heritage Square so this can bring out the family. These are the type of activities we want to implement in St Vincent and the Grenadines and help Vincy people make a dollar," said Gonsalves.
He added that he is hoping that the event grows and as a result, helps Kingstown look more alive and vibrant.
Invest SVG said that all are welcome to take part in the initiative free of cost. The date for the next night market will soon be announced. The last or first Friday or Saturday of each month are the days being considered.