Posted on
Child Month being held in collaboration with DARE Unit of the Police Force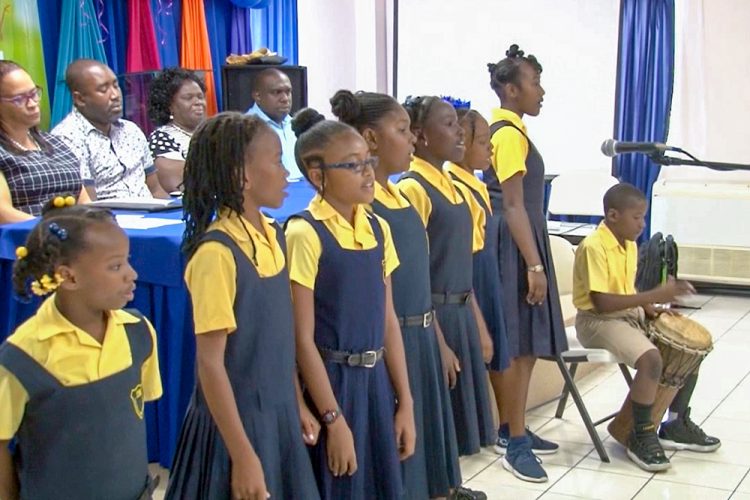 The Children of St Vincent and the Grenadines are taking the spotlight during the month of May as the Ministry of Education, National Reconciliation and Information in collaboration with the St Vincent and the Grenadines Police Force DARE Unit launches Child Month.
Child Month 2019 is being observed under the theme: "Building a foundation for quality education through early literacy".
The programme, which runs throughout the month of May will include among other things, a march and rally on Thursday, May 23, 2019. The march will begin at Heritage Square, ending with a rally at Victoria Park.
Speaking at the launch of the activities on Friday May 3, Chief Education Officer (CEO) Elizabeth Walker stressed the significance of educating children in their primary years, noting that it will improve the quality of education they receive while impacting significantly on their future.
Raenando Hendrickson of the police DARE Unit noted that the DARE program can positively impact the lives of children in SVG. He said the program seeks to educate and reduce instances of drug abuse and crime.
Keynote speaker Reverend Al Blake of Harvest Bible Chapel echoed the sentiments of Senior Education Officer for Early Childhood Education Ethny Williams, who emphasized the worthiness of literacy acquisition and development of the child holistically. Pastor Blake stressed that literacy is a holistic concept which is derived from strong parental involvement as well as a collaborative effort from the community noting that "It takes a village to raise a child".
Pastor Blake further noted that it is necessary for education to begin at the home since parents are primary teachers to their children who would later model their teachings and values. He stressed that If incorrect values and behaviours are mirrored, it can have adverse effects on the children's future.