Posted on
Vincentians bid farewell to John Horne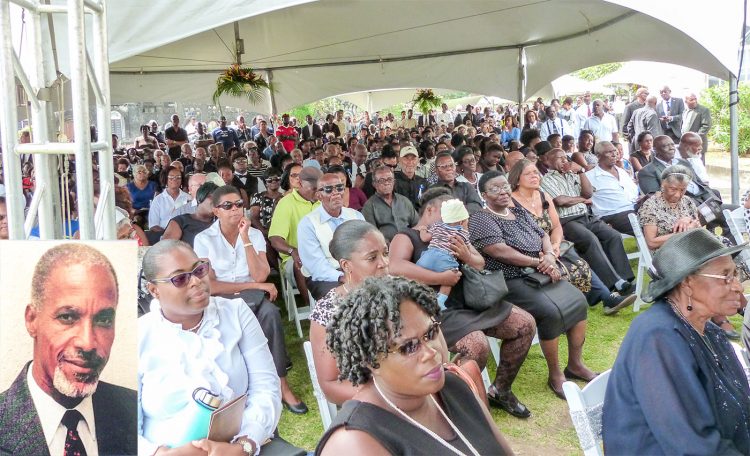 The size of the crowd that came to bid their personal and final farewells to former Parliamentary Representative Alexander John Clark Horne last Friday was perhaps unprecedented.
Member of parliament, former leader of the Opposition and longtime friend of Horne, Arhnim Eustace made this observation during the official viewing of the body held at the House of Assembly(HOA) last Friday morning.
"What you see here today…I'm not aware that it ever happened in St Vincent before…where people come publicly to pay their tribute…This kind of crowd, I have never ever seen this, and I've been in Parliament now for 21 years….I've never seen anything like this, and that tells you something of John Horne," Eustace recalled standing just outside the lines of people waiting outside the HOA to say their personal goodbyes.
He doubted that any Parliamentarian in St Vincent and the Grenadines (SVG) now, could attract such a crowd, reminding that it was not Horne's choice to enter politics but the people's.
"John Horne did not enter politics you know. A petition came from the constituents, to ask him to be made a candidate," Eustace stated. He noted that Horne was a "very kind", "very humane", and "very thoughtful" person.
Sir James Mitchell, who led the NDP administration during the time that Horne was the Parliamentary representative for West Kingstown between 1984 and 2001, expressed his sadness at seeing "another soldier pass".
Those members of the public waiting outside were resolute in their mission to deliver a last goodbye, to hold hands with, and offer condolences to his five daughters, wife and family that were in the grips of grief.
"We're gonna miss him, we're gonna miss his singing, we're gonna miss his personality, he was generous, he was always kind," a woman in the same church community as Horne (Anglican) commented.
"In my time he was the Minister of Education and he played a very important role in my life then, he was very respectable," another woman standing in line intoned.
Martin Quashie, Drama Development Officer in the Department of Culture, remembered the days when he worked under Horne, and the gentleness and kindness Horne showed to his son who used to come over to the office. Quashie, saying that he did not know that Horne was sick, concluded that he was a "very, very good" man and a "very good politician."
The overwhelming sentiment was that the late representative was a "good, good man." Tales of his generosity were declared loudly, and of times when he gave money so that their children could go to school, or play squash.
"I could not have done anything better than this…than to come and pay my last tribute to Mr John," a man who identified himself as Conrad Charles expressed.
Three of Horne's daughters, Oneka Horne-Tolentino, Zhinga Horne-Edwards and Kande Horne-Kara delivered a eulogy at the funeral service at St George's Cathedral later that day, which mirrored these tributes expressed in the morning.
"Having him in your corner meant having him believe in you, motivate you, encourage you, find opportunities for you, and never ever give up on you. If you had a passion, my dad would encourage that passion, support that passion, finance that passion…promote that passion, be proud of you and that passion, until he was more passionate about the passion that you. He was so enthusiastic, so energetic, so full of life, until he wasn't," she stated, speaking about his love for his constituents to the entirety of the St George's Cathedral, those in the tents outside, and the those trickling outside the doors and sitting on graves.
Horne stayed in the memory of many because of his large and small acts of kindness, and these were relayed in the stories told by his third daughter Zhinga. "It didn't matter if it was big or small, once it mattered to you, it mattered to daddy and he went out of his way to help everyone," she stated.
Horne's fourth daughter, Kande, revealed that her father's generosity and kindness was freely given.
"Nothing he did for you was ever an inconvenience. When you thank him for going out of his way…his typical response? No trouble at all, my pleasure. It was truly his pleasure to be kind," she assured.
At the end of the eulogy his daughters revealed that the final resting place for the man who they said loved his constituents and family equally.
He was buried in the west side of the church, facing his old constituency of West Kingstown, and next to the woman who raised him, his grandmother Maria. His daughter's said that he loved Maria because she would protect him as a child, take him in her skirts and tell his aunts to "leave the bway alone."
"My father's body will be laid to rest with her today, but 10 days ago, on Easter Monday, she dragged him up in her dungaree skirts and laid him down in her bed, put him to sleep and said 'leave the bway alone.' He's now asleep, he's now resting," Oneka concluded while holding back tears.