Posted on
PM absent from Horne's funeral because of plans by agitators to 'sully solemn ceremony'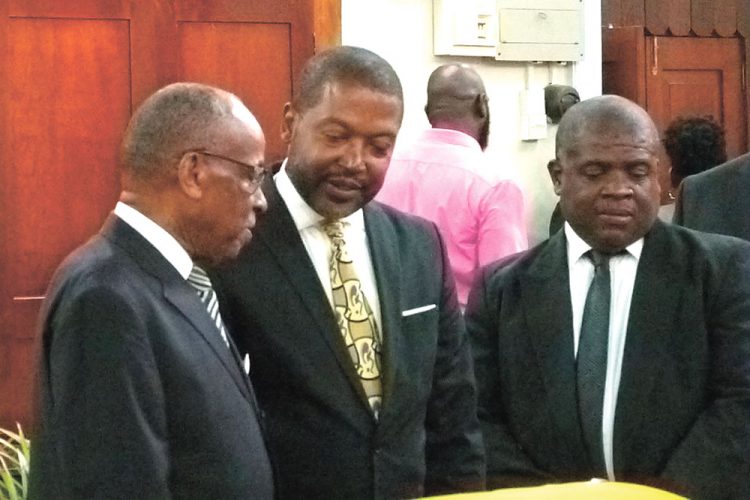 So as to avoid any protests or raucous behaviour from some attendees, Prime Minister Dr Ralph Gonsalves opted not to attend the official funeral last Friday, of John Horne, a former parliamentarian.
Gonsalves, while speaking in Parliament yesterday, said that he regretted not attending Horne's funeral and explained why he was absent.
The Prime Minister said he was scheduled to attend a special prime ministerial meeting concerning security in Trinidad on the same day, and he was torn as to whether he should attend the meeting or stay and pay respects to Horne.
"I finally decided that I will stay at home and I asked the minister of finance [Camillo Gonsalves] to represent me at this meeting in Trinidad, so I can go to the viewing here in Parliament and go to the funeral service at the Anglican Cathedral," the Prime Minister said.
Horne was the parliamentary representative for West Kingstown from 1984 to 2001 and a government minister under the New Democratic Party (NDP) administration of Sir James' Mitchell.
Gonsalves said that his head of security informed him at 1 p.m. last Friday, that "on a programme at that time, on Nice Radio, the hostess, the woman, was seeking to agitate persons to look out for me at John Horne's funeral and to give me the treatment which was meted out to me at my friend, Elwardo Lynch's funeral".
Lynch, an activist for the NDP, was buried in July 2014. When the Prime Minister arrived at Lynch's funeral at the Holy Trinity Anglican Church in Georgetown, he was greeted with boos and jeers from some members of the congregation. Despite appeals from members of Lynch's family, people continued to protest and Gonsalves was unable to read his tribute to Lynch.
And as he stood to pay tribute to Horne in Parliament yesterday, Gonsalves said that he decided not to attend the funeral last Friday because he did not want that same thing to transpire.
"You know those things that people shout at me and say, those things don't mean anything to me, but out of a deep respect for the family, and for the deceased himself, I decided to stay away. I didn't want in any way for a handful of people so agitated, to sully this solemn ceremony," he said.
The Prime Minister said he spoke with senior members of the NDP, who indicated that they had heard the host's call to action and thought that it was "wholly wrong".