Posted on
Trinity Chapter of the SMS donates to WPP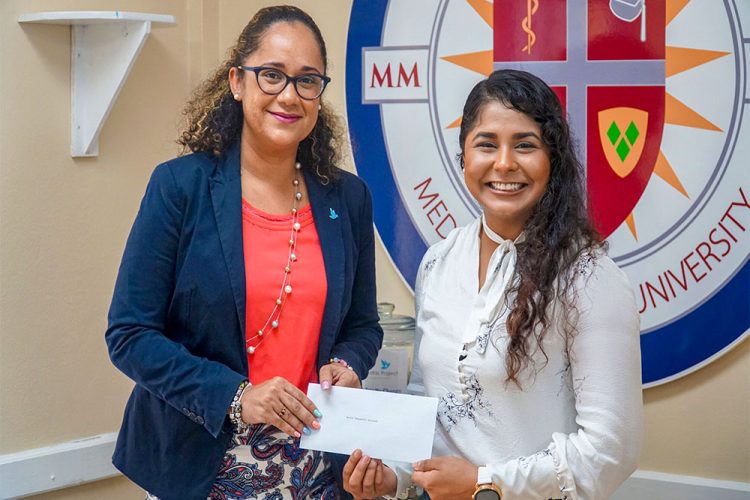 The Trinity Chapter of the Society of Medicine and Surgery (SMS) has made a donation to the World Pediatric Project (WPP).
The contribution, which was received by executive director of the WPP Lauren McIntosh, is a show of support for the outreach of the WPP, it being the third donation from the SMS in three consecutive terms.
According to Vice President of SMS, second term student Kenneth McGuire, coming out of the club's emphasis on giving service and support to the community, the SMS chose to adopt the WPP as the charitable organization to which it will make monetary contributions.
In order to facilitate these donations, members of SMS hold three fund raising activities each term: a general knowledge trivia night; a dodge ball tournament and a volleyball tournament.
President of SMS, Farah Chaudhry outlined the advantages of SMS working on such a project. "We learn how to work as a team," she said, "this brings benefits such as fellowship, establishing bonds, camaraderie, and we get to release our frustrations too. The great weather makes it even better!"
President Farah said the great relationship between Trinity Medical Sciences University and the World Pediatric Project affords the students the unique opportunity to work alongside world renowned pediatric specialists both in diagnostic clinics and observing surgeries in the operating room.
This relationship between the SMS and the WPP could well be described as a 'win-win'. As a result, the SMS vows to continue their altruistic venture.
The WPP, in its outreach across the Eastern Caribbean has St Vincent and the Grenadines as the hub for serving children across the region, with its watch words being "heal one child at a time". Diagnostic and surgical teams continuously address the needs of these children who do not have immediate access to pediatric specialist care.