Posted on
Saint James medical school gets cutting edge virtual dissection table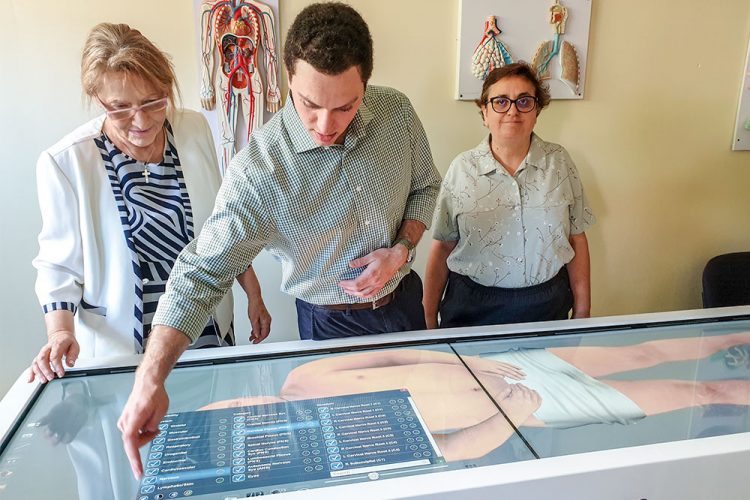 The Saint James School of Medicine has become the first local medical school to own an Anotamage table, the world's first and only virtual dissection table.
On Monday, staff at the institution at Arnos Vale received training on the use of the table from Alex Layyous, an application engineer from Anotamage.
The table is the only fully segmented real human 3D anatomy system. Users can visualize anatomy exactly as they would on a fresh cadaver. Individual structures are reconstructed in accurate 3D, resulting in an unprecedented level of real accurate anatomy, dissectible in 3D. The Table allows for exploration and learning of human anatomy beyond what any cadaver could offer.
"You don't have to have real cadavers that you can store. Now you can do it all digitally. You can't mess anything up, you can't make a mistake because you can easily go back, restore it to the original condition," Layyous said of the table.
The Table allow students to interact with young and well preserved digital cadavers instead of aged and degenerated bodies.
Layyous added that the table can be used at any time with limited guidance, so persons find it engaging and as a result, it has improved test scores for many students.
However, Layyous said that while using the table is just as effective as a real cadaver, you don't get the tactile feeling of cutting through skin or fat and that is one of the limitations.
He said that they have sold over 1400 tables globally and St Vincent and the Grenadines (SVG), the Dominican Republic and Puerto Rico are the first in the region to get the new technology. He added that Anguilla will soon join the list.
The table also allows for the reading of computerized tomography (CT) scans and Magnetic resonance imaging (MRI) tests.
"This table is very important, and it is the newest thing here and I am very happy that we can show our students the dissection of the brain," commented Dean of Student affairs Mirjana Milutinovic who also teaches neuro science.
Also commenting was Rana Zeine, a neuro pathologist at Saint James.
"I do brain cutting sessions where I slice through the brain with a knife but now, I will be able to slice through the brain digitally where I show them normal brain slices and abnormal because the table contains cases, so it is like seeing clinical information," said Zeine.
She said that the while the school's plan is to still have cadavers, the digital table allows students to study and review much better on their own as they can come back to the table at any time.
"It gives the students more independence to study anatomy, pathology, histology and to have clinical experience," stressed Zeine.
The table costs upwards of US$75,000.