Posted on
Geothermal machinery rolling in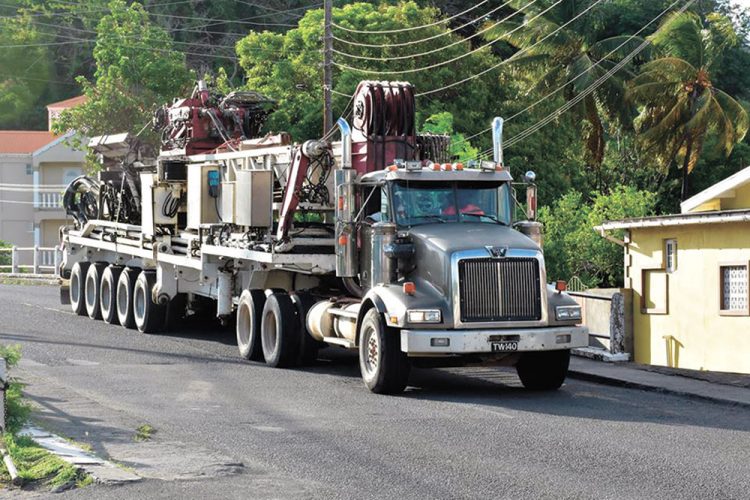 This county's geothermal project moved into another phase this week, with some of the machinery that will be used for drilling being transported to Bamboo Range, Rabacca.
Transportation of the equipment began last week Thursday, and continued during the past week, with huge trucks each carrying over 60 tons of equipment, including the drilling rig.
Movement of the equipment is expected to continue for at least another few days. The equipment departs Port Kingstown and so far, everything has been successfully transported to the site at Rabbaca.
A few concerns had been raised about the large vehicles being able to safely traverse the Windward highway, but with traffic police officers coordinating the move, everything is reported to have gone smoothly. A government source said that the Biabou bridge, about which there had been some concern, has not shown any signs of stress.
Prime Minister Dr Ralph Gonsalves said on Sunday on We FM that by June, the government will have an idea of the full extent and quality of our geothermal resources.
He noted that the way the government has gone about the project has seen this country being commended by the World Bank and other entities for putting the legal framework in place for private sector involvement.
The geothermal power plant is projected to enhance the electricity grid on St Vincent by leveraging its natural renewable sources, while cutting the cost of electricity generation by 25 per cent.
The project is being executed by Reykjavik Geothermal, a world leader in the generation of geothermal energy.
Prime Minister Gonsalves said that so far, work valued at US$4 million has been done at the site. This includes the construction of roads, drill pads and a facility for a dam.
The plant is expected to be completed by 2021.