Posted on
ECGC Foundation awards outstanding Dominican law student at Cave Hill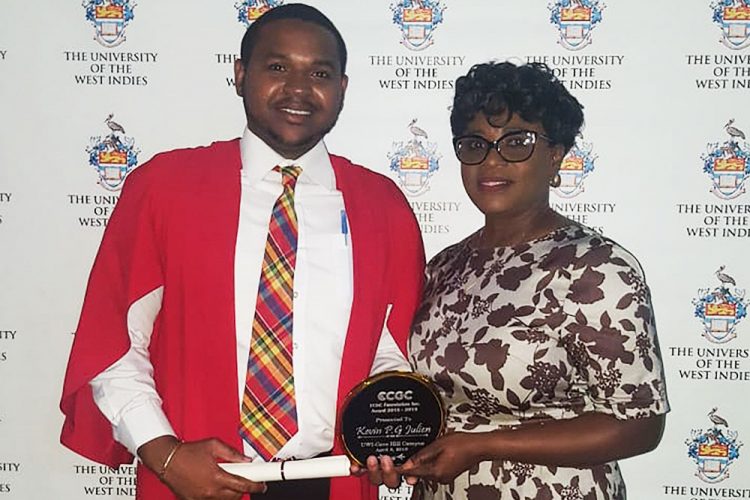 Outstanding first year Dominican Law student Kevin Julien was awarded the East Caribbean Group of Companies (ECGC) Foundation Award at the University of the West Indies Cave Hill Campus Student Awards Ceremony 2019.
Held on April 2 at Lecture Theatre 1 in the Roy Marshall Teaching Complex, Julien received US$1,000 to aid in his study expenses. "ECGC congratulates Mr Kevin Julien on being this year's ECGC Foundation Awards recipient and wishes him success in his remaining semesters of study," a release from the Foundation said.
Open to all OECS Nationals, the ECGC Foundation Award has been granted to a number of the University of the West Indies Cave Hill Campus students over the years. Additionally, Vincentians Latoya Browne and Hannah Hamilton, valedictorians of the University of the West Indies Open Campus St Vincent for the periods 2016-17 and 2017-18 respectively, have also been notable recipients of this award.
"As a leading regional organization and part of its corporate mandate, ECGC is pleased to contribute to the educational development of Vincentians and OECS nationals alike. The University of the West Indies Open Campus and the St Vincent and the Grenadines Community College are two institutions that have benefited from such," the release said.
Meanwhile, on February 19, the ECGC Foundation further contributed EC$10,000 to the St Vincent and the Grenadines World Pediatric Project (WPP). WPP aids in facilitating the provision of and training in pediatric specialty care through outreach programs for children and Health Care professionals respectively in the Eastern Caribbean.
Recognizing the good work being done by the Foundation, Lydia Daniel of the SVG Central Florida Organization Inc. donated US$1000 to aid in the execution of ECGC Foundation's mandate to assist the less fortunate.
Daniel said that The SVG Central Florida Organization is a 501C3 registered non-profit organization that seeks to "increase public awareness of Caribbean Culture through arts, music and education".
They also partner with charitable organizations (such as the ECGC Foundation) to provide charity to the needy. The donation was handed over in a short ceremony held in ECGC's Board Room on April 5, 2019.