Posted on
Twin sisters awarded for outstanding performances at CSEC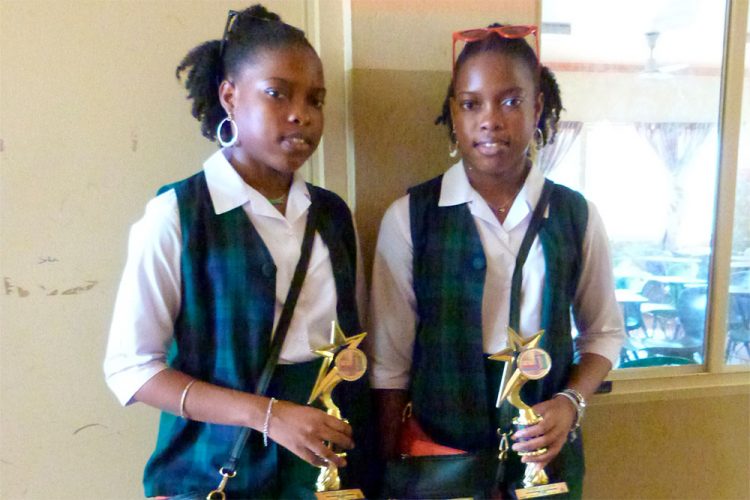 TWIN GIRLS Jesseica and Jesse James, who do most things together, also jointly copped awards last Friday for their outstanding performance in obtaining 17 subjects in CSEC.
Their awards were among dozens of trophies handed out at the 2018 National Awards Ceremony, held at the St Vincent and the Grenadines Community College (SVGCC) Auditorium and facilitated by FLOW and the Ministry of Education. The annual event recognizes and celebrates the exceptional scholastic achievements in the May/June 2018, Caribbean Primary Exit Assessment (CPEA) and the Caribbean Secondary Education Certificate (CSEC) exams.
The James sisters, now 16 years old, did not share the category of receiving 17 subjects with anyone else, and no one surpassed them in terms of the number of subjects attained.
The twins, past students of the St Vincent Girls' High School (GHS), are now students of the St Vincent Community College (SVGCC) Division of Arts, Sciences, and General Studies; and there, they are studying Chemistry, Biology, Physics, Maths and Computer Science, together.
Jesse James got 10 grade ones, 5 grade twos and 2 grade threes, and her sister received 8 grade ones, 8 grade twos and 1 grade three. They both did the same subjects.
However, the sisters spoke to SEARCHLIGHT after the award ceremony, and Jesse James said that she was little disappointed when she received her results. The James, who describe themselves as ambitious, attributed their disappointment to a rough patch they went through close to the exams.
Speaking about their parents' reaction, the girls described that they were satisfied and excited, despite expecting the result because of the rough patch.
On their reason for completing 17 subjects, the twins, who also played with Symphony Steel Orchestra while studying, said they just did subjects that they liked and appreciated. Both sisters said they wanted to do even more but couldn't because of time constraints.
The two still don't know what careers they will pursue, but Jesseica, who is younger, answered that they are in between radiology, joining the Navy and forensic science.