Posted on
Prepaid data plans just got better with FLOW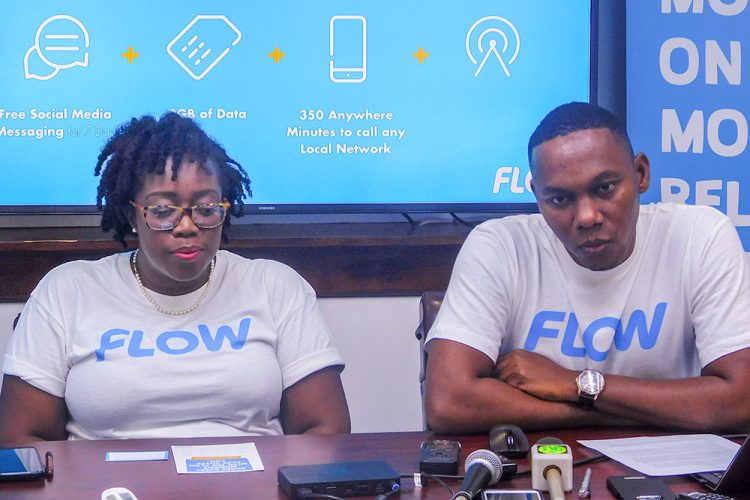 FLOW PREPAID customers need not worry about having access to their favourite social media platforms when their data plans expire.
The telecommunications company officially launched its "For the moment that moves us" campaign yesterday during a press conference at the main office on Halifax Street.
"Our customers, they want to call anyone, they want unlimited access to social media, unlimited text messaging and they want simple plans with no surprises and charges to their billing and their accounts," Wayne Hull, the general manager said. "And this is exactly what we are delivering to them. Our business, we are no longer talking about megabytes. We are gonna be the gigs company. So today, our announcement is going to be historic in terms of the telecoms landscape here in St Vincent."
The company revealed new data plans for their prepaid customers which offer one gigabyte of data on a one-day plan for as low as $3. Plans go up to as much as 10 gigabytes of data for a 30-day period.
And the new plans, which are available from today, have been branded as "Always on" because they come with unlimited social
media messaging on the most popular platforms; Snapchat, Whatsapp, Instagram, Facebook and Twitter.
Hull said this is a "massive upgrade" to existing prepaid data plan bundles that are currently on the market.
The general manager also said that FLOW was enabling its customers to experience the third wave of technology.
"So whether you have a one day plan, a three day plan, even if you run out of main data, you will still have access to those social media platforms and this is why we are saying the plans are keeping the customers always on the network," he said. "I think a big, big part of the plans is that we are reducing the prices. The prices are lower than what we have in market now and we have given an exceptional amount of data to the plans."
Nikala WIlliams, the marketing manager said that the new packages were packed with value for prepaid customers.
With the launch of these new plans, Williams also announced several actitivities taking place to welcome the changes.
An "Always On" party will be held on the Flow Promenade this afternoon from 4pm to 6pm.
And the marketing manager said that anyone who activates one of the new plans will be entered into a draw for a mad-dash shopping spree in the Flow Store.
The winner of the shopping spree will be chosen at 5:30pm and will immediately be ushered into the store for the spree to begin.
Williams said complimentary smoothies will be given to patrons as they are entertained by "the most exciting entertainers" in St Vincent.