Posted on
New roti shop spicing up city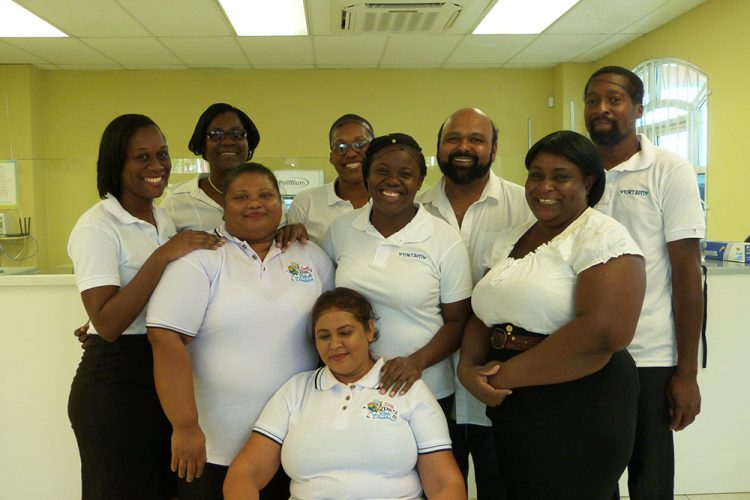 A NEW ROTI shop is already spicing up the restaurant scene in Kingstown, as it heads into its third week of serving fresh Indo-Trinidadian cuisine.
"VincyRoti", located at the corner of Middle and Higginson street, did not have to wait long for business to start booming when they opened their doors last week Monday.
In fact, the original opening time was pushed forward, and Tony Ramasar from Tunapuna, Trinidad, and his chef Doll Singh, from Fyzabad, Trinidad started serving pholourie's, aloo pies, and the like, half an hour early.
By the end of this first day, there was no food left at the end of their opening hours, and the small restaurant had seen many huge waves of customers. At the peak time, it was estimated that 75 persons were lined up for food.
Ramasar, and his chef, both visibly exhausted from the day's rush, sat down to speak with SEARCHLIGHT about "VincyRoti," at the end of their first day.
Ramasar disclosed that he had seen the potential for a roti shop across the two years that he had been coming to St Vincent. "The curry I… I was just lost, with the colour, you know, of it," Ramasar explained about his own experiences ordering curry in St Vincent, as opposed to what he was used to in Trinidad.
"I started asking questions, and so on there, and then the reaction was… 'Yeah man a proper roti shop, we don't have anything like it here'," the restaurateur recalled. And so, even without any prior intentions of going into the roti business, Ramasar decided to invest heavily in this potential that he had seen.
With him, he brought the woman driving the operations in the kitchen, Doll Singh, who has been cooking "Since I know myself."
"We met, when I tasted her food I said wait a second, this woman is cooking just like my aunty, that kinda class," Ramasay explained.
Currently Singh is the only cook in the kitchen, prepping the meat beforehand, but cooking everything else from the menu on the spot.
When the roti shop opened, Singh was making breakfast, which included, bake and saltfish, veggie roti, fry fish with bake or roti, aloo pie, pholourie, and saheena, by herself, assisted in prep by the others in the kitchen. Rotis served in the morning were sada roti, and for lunch, buss-up-shot or dhaalpuri.
However, since the chef also makes lunch, which includes, veggie, curry chicken, curry goat, stew beef, and curry conch rotis; geera pork; rice, dhaal and veggie or chicken or goat or beef or geera pork or conch; cow heel soup and corn soup, adjustments had to be made.
The work load was too great for one, and currently breakfast is suspended, until reinforcements from Trinidad are called in.
When the second chef arrives, normal activities will resume and doubles, will be added to the menu, Ramasar informed this week.
While the shop is seeking to capitalize on the market, Ramasar promises "I would not though, sacrifice quality, the quality we are giving now for growth, I would not do that."