Posted on
Maritime security strategies for RSS member states to be created using CDB funds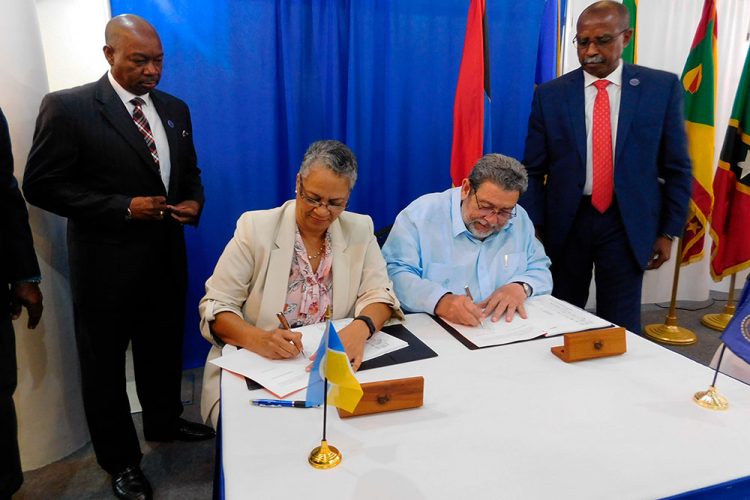 OVER $330,000 FROM the Caribbean Development Bank (CDB) has been allocated towards creating maritime security strategies for member countries of the Regional Security System (RSS).
A memorandum of understanding (MOU) was signed last Friday at Beachcombers Hotel by Prime Minister Dr Ralph Gonsalves, the chairman of the RSS Council of Ministers and Monica La Bennet, the vice president of operations at CDB.
Captain Errington Shurland, the executive director of the RSS, said that the combined maritime area of responsibility in the subregion is more than 150,000 square miles.
And while the sea can be seen as the lifeline of the region, particularly for economic development, the maritime space also accounts for a significant amount of threats.
"Our ports, borders, coupled with limited capability to conduct maritime domain awareness operations and a lack of maritime and port security awareness amongst some key stakeholders means that this is a significant vulnerability," Shurland said.
"In order to address this vulnerability, the Caribbean Development Bank has approved a technical assistance request from the RSS for the development of national maritime strategies for the member states and a regional maritime strategy and implementation plan for the RSS."
The project proposes the development of a regional maritime security strategy and implementation plan. It also proposes national maritime strategies for each RSS member country.
According to the RSS executive director, it is expected that it will enhance regional coordination and collaboration in preventing and responding to security related threats in the maritime sphere.
La Bennet, the CDB representative said that maritime security is an area of significant interest for the international maritime community.
"There is increased availability of illegal weapons and other contraband and this has resulted in a growing call in the Eastern Caribbean for better border security to stem this threat," she said.
She further listed the illegal trafficking of persons, drugs and weapons as "pressing security challenges" faced by Barbados and other OECS countries.
And the CDB representative believes that the RSS has a critical role to play in addressing these challenges and supporting and maintaining regional and national security.
"At CDB, we believe that we should employ more regional approaches to addressing development challenges so for us,
the RSS stands as a fitting symbol of regional cooperation and integration," La Bennet said. "It is for these reasons that the CDB has a keen interest in supporting the RSS. We see this project as a statement of the bank's unwavering commitment to promoting regional integration and cooperation, in keeping with our mandate but we also see it as making an amazing contribution to promoting good governance…" Under the maritime project, the RSS will be better equipped to coordinate maritime security within its membership.