Posted on
SVG hosts 37th annual RSS council of ministers meeting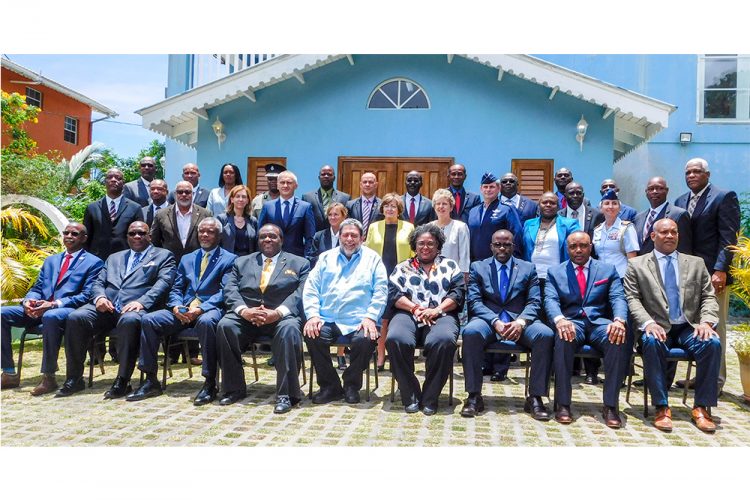 Regional ministers met in St Vincent and the Grenadines last Friday to discuss matters of regional security at the 37th annual Regional Security System (RSS) council of ministers meeting.
The meeting's opening ceremony commenced close to 10 a.m. at the Beachcombers Hotel Conference Room and featured a number of guest speakers from various organisations.
Prime Minister Dr Ralph Gonsalves, who is the chairman of the the council of ministers, said that the bedrock of security rests with the region's co-operation with other countries including the United States, Britain, Canada, France and the rest of the European Union.
"Citizen security and our region's security is an important cross cutting developmental issue because in order for us to enjoy life and to enhance production, we have to be safe and we have to be secure and we have to be uncompromising on this matter," he said.
Gonsalves said the main items at the meeting were the budget; addressing arrears and sustainable paths towards funding and capability analysis, risk and mitigation factors impacting crime and violence in RSS member states.
Captain Errington Shurland, the executive director of the RSS, also delivered remarks at Friday's opening ceremony. He said that the region has been quiet in the past year, as member states have not been impacted by any climatic events or severe weather systems.
But Shurland revealed that there has been "a notable increase in gun violence and this has had a deleterious effect on some of our member states".
He said that states must apply hard and soft responses; hard being commitment to placing necessary infrastructure in place to secure borders and prevent illicit guns from entering space.
And the soft responses he referred to involves "constant positive messaging to our young people with the aid of social development programmes that consistently target troubled youth…"
"There's a seismic shift in the world order that impacts our region. We must of necessity seize strategically the opportunities that are present for positive influence through meaningful dialogue and consensus. Therefore the strategic engagement of our international partners is critical to maintaining a safe and secure environment that leads to development and ultimately ensures that the region remain a zone of peace and tranquility," Shurland said.
Other speakers at Friday's ceremony were Barbadian Prime Minister, Mia Amor Mottley, US ambassador to the Barbados and the OECS, Linda Taglialatela, British High Commissioner to Barbados and the Eastern Caribbean, Janet Douglas and Canadian High Commissioner to Barbados and the Eastern Caribbean, Marie Legault.