Posted on
We all win when we Step-It-Up – Webb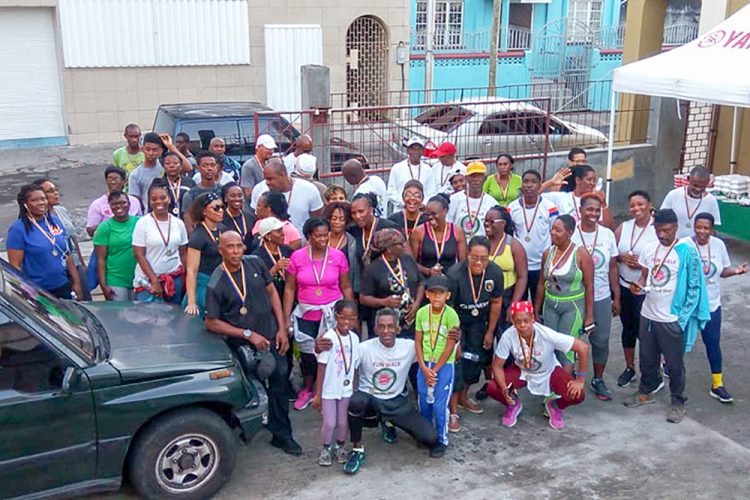 The School Boy Beer 10th Annual Heroes' Day Fun Walk took place on March 14, with this year's theme being "Step It Up".
The course route reflected this new focus of climbing steps as a form of exercise, and took the 62 participants ascending and descending two of Kingstown's major "Step Climbs" – namely: "9-Steps (69 steps)" and "Otley Hall Steps (174 steps)".
The starting location of the Fun Walk was at the School Boy Beer (SBB) Headquarters on Lower Middle Street, Kingstown (next to the "Old Anglican School"). From SBB Headquarters the course went towards Bottom Town/Rose Place, then went up "Nine Steps" and turned left, proceeding to the Upper Edinboro Hard Court. It made a right at the Hard Court towards Otley Hall, then made a left going towards the Shipyard; then the course took the other left towards the middle road & followed it to the left towards the "Otley Hall Steps". Then the course took those steps back up to the Hard Court. After the Hard Court, the course turned left and retraced the route back to the Finish Line at SBB Headquarters.
The top female walker was Ann Gould and the top male walker was Vincent Alexander. Eight-year-old Kaiti Gould and Aidon Solomon were the two top children female and male walkers.
This year, School Boy Beer awarded medals to all the participants as Malcolm Webb encouraged all to walk regularly to promote good health, saying: "We all win when we Step-It-Up."
At the end of the walk, all participants were served a healthy breakfast and lots of School Boy Beer in honor of its Founder and St Vincent track and soccer star, James W Webb.
School Boy Beer Fun Walk organizers would like to recognize and thank the following businesses for their support and sponsorship: Dawn Smith – Hillside Caterers, Alanzo Howard – Howard Marine, Randy Kennedy – Randy's Supermarket, Coreas Distribution Limited, Mountain Top Spring Water.
The School Boy Beer Team salutes all of our National Heroes and would like to thank all those who participated in the Fun-Walk promoting National Pride, Team Spirit, Outdoor Activities, Healthy Diet, Regular Exercise and Environmental Awareness.