Posted on
Regardless of struggles, don't ever give up – Curth Clifton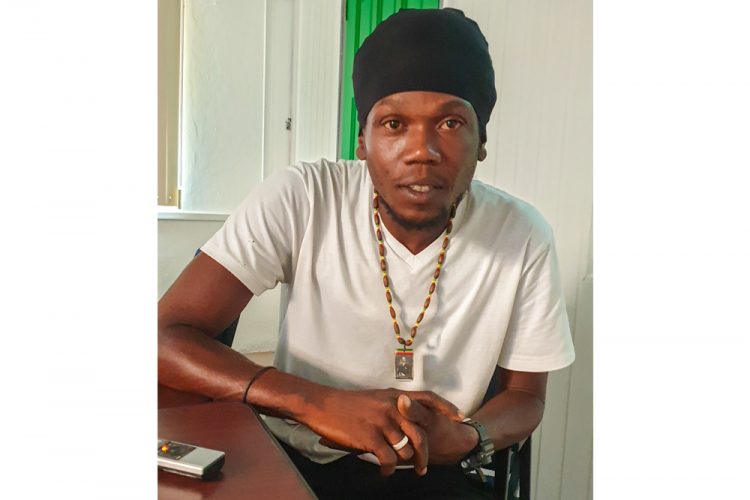 When you think your life is hard, someone has it harder.
Take the story of Curth "Fano" Clifton, for example.
Curth was born in Sion Hill, and in 1985 at the tender age of 7, he, his 6-year-old brother and 8-year-old sister were left to fend for themselves when their father Lennox Clifton was killed.
Curth does not know the details of what happened, but he was told that his father was shot and killed during the burglary of a shop at Sion Hill.
"My father died, and his family drew away from us and cut we off and took all my father's inheritance," remembers Curth who added that he and his siblings were taken in by a stranger as his mother was not around.
He said that after a few months, his mother turned up and took them back and they went to the house his father had left behind, but it had been vandalized, as when persons learnt of his father's death, they broke in and stole everything of value.
Curth said that after they moved back into the house, his mother rented out half the property to foreigners as the house had many rooms and that went well for a while.
But soon, according to Curth, the foreigners introduced his mother to crack cocaine and from there, everything went downhill.
"My mother started smoking crack, so I never got a chance to educate myself…it wasn't nice because my mother wasn't working, she was always dependent on my father…the house became a crack house, so I grew up in a crack house."
"We used to go Petersville school, but when my father died, we went to the Sion Hill School, but my mother didn't hold her responsibilities, so I became vulnerable to the streets. I had to survive by any means necessary.
"I had to eat from the cino (garbage dump) and beg for my bread," remembers Curth.
He said that his sister was adopted by a woman, but he and his brother remained with their mother, so they begged and hustled, "sold breadfruit and whatever".
Curth said that he later transferred to the CW Prescod Primary School but after he finished there, he was unable to go to secondary school, so he took a job as a labourer working on the Kingstown Market.
"I was being exploited as a labourer and I worked hard and wasn't getting nowhere. Every week I end up back the same place with no money to save or to take care of myself, being paid $22 a day.
He said he could have sold cocaine to earn a living but decided against it.
"…People who are in similar situations just need to look into themselves and seek the Almighty in yourselves," Curth, a Rastafarian commented.
"I always had a deep interest with learning, so I found myself being around secondary school students but never got the stability to grow," he added.
He said that he got the name Fano because someone saw it written on a van and asked him what the word was, and he didn't know.
"I couldn't read it so persons started calling me Fano so I said I would never place myself in that situation because of the mockery so I started to try to read every sign and then I started reading the testament and that is the first book I ever read because I wanted to know about the Bible…then I got a dictionary and that helped."
Curth said that facing all these hardships, he decided to plant marijuana to improve his situation and that of his brother.
But after a while, he realized the marijuana scene was not for him, so he decided to get away from that but was arrested during his transitioning process.
"Police caught me in Ottley Hall when I decided to stop planting marijuana."
He said another rastafarian offered to give him a chainsaw in exchange for some marijuana.
"… I said seeing that I getting out is bet I get some resources to do farming and make coals if possible, so I decided to swap some marijuana for the chainsaw so on the way to do the transaction I get apprehended by the police," Curth said.
He said that he explained to the police what he was doing but they locked him up and he was fined in court for possession of 503 grammes of cannabis.
"So, I paid some and left a balance of $400, but a few months after I was coming from Leeward and police pull over the van and found marijuana in it and said it was mine and lock me up.
"They select me out of everybody in the van and claim the marijuana was mine, so they carry me Layou Police Station then into Kingstown. I plead my innocence and they took my bookbag and when I reach to court, the officer said she found the stuff in my bookbag," recalled Curth.
He said he tried to explain to the court that nothing was found in his bag, but even before he could take the stand, the magistrate accused him of owing the court.
"I was shock to what was going on when I know I innocent and was just trying to survive. She told me I owe the court $800 which wasn't true. I owed $400 and I had proof and I told her I could go for the document, but she refuse and sent me on remand so I spend nine days on remand and while I was round there, she got the thing clarified. Prison is not a nice place, it is not an easy place it is really disgusting."
The New Montrose resident said despite being wrongfully accused and going to prison for it, he still wasn't discouraged and continued his struggles.
At one point he made enough money to start a business selling oils, incense and other items and was doing well, but he sent the money to restock his business to a family member in the United States and that persons took the money.
"They took the money and pay their bills and that is why my business went down," said Curth who moved on once again.
While dealing with that, bad weather destroyed Curth's and his brother's humble dwelling. He said he was promised government assistance but never got it. He said the only assistance he has ever received is EC$150 from the social welfare department.
He said that he once raised enough money to pay down on a board structure which he had planned to move from Redemption Sharpes to his spot at New Montrose, so he paid a little over $1000 to the man who owned the structure.
"We agreed for $4000 but then he said he wanted another $4000, so I couldn't afford that, so I told him I wanted back my money and I never got it back," Curth said.
"Through all this, I never lose my positivity. I went through a lot," he stated while adding that one time he fell ill and didn't know the problem, but doctors finally diagnosed that his ill health was due to a blow to the head as a youngster.
Curth said that he is not fazed by his struggles as they have only helped to make him stronger. He uses his life's experiences to encourage students to be positive as he is part of a group that goes to various schools and talk to students.
He also occasionally goes to the Sion Hill Government School where he teaches students about seedlings and how to sow them.
"Right now, I am working, I love to work, I love to produce. Right now I am planting lettuce as a way of surviving and selling seedlings and I am still progressing," Curth told SEARCHLIGHT.
"I want people to know my story so they can understand what I been through over the years. It keep me going. I have a plan, I have things to do," Curth stressed.