Posted on
SVG Association of Winnipeg makes donations to several organizations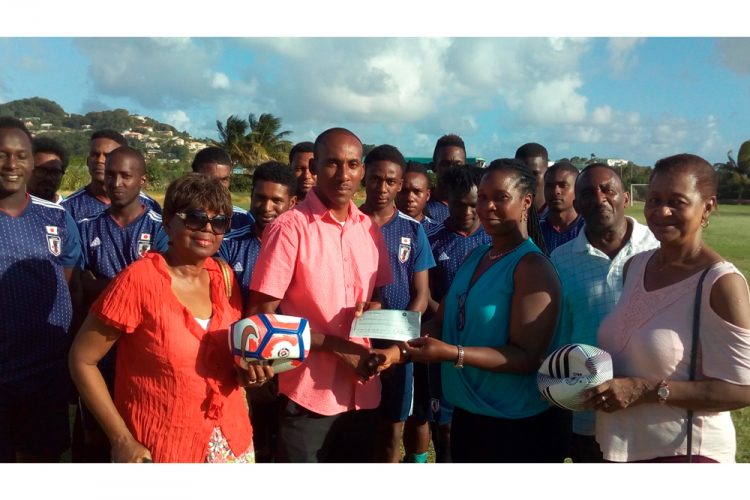 The St Vincent and the Grenadines Association of Winnipeg Inc. (SVGAW) based in Manitoba, Canada has again made monetary donations to various organizations and schools for its 2019 project year.
In January 2019, monetary donations of $1000 each were made to the CW Prescod Primary School and the Rose Hall Primary School to assist students in the School Feeding Program.
A monetary donation of $500 and two footballs were also given to the Owia Football Girls' Team and Boys' Team to assist with their ongoing cost of travel and supplies.
While, in March 2019 the SVGAW continued to assist students by donating $1600 to the St Vincent and the Grenadines Special Olympics to support the cost of sending 26 Athletes and 9 coaches and chaperones to participate in the World Games presently ongoing in Adu Dhabi. The SVGAW wishes the athletes a safe flight and success at the games.
The SVGAW representatives who made the donations to the organizations and schools were Gasita Jones, John Jack (Outreach Co-ordinator), Verona Jack and Margaret Lewis-John (PRO). The SVGAW representatives also took the opportunity to thank the Vincentian community in Winnipeg and other executive members which includes President Arlene Green, Vice president Charles Henry, Treasurer DeCris Providence, Women's Committee Co-ordinator Angela Cupid, and Immediate Past President Dennis Cupid.
The SVGAW will continue its fundraising program in Winnipeg in June this year, with its annual event called 'Ah We Kinda Food'. This event helps to raise funds for the yearly sponsorship of projects in St Vincent and the Grenadines. Each year Vincentian cuisine is prepared and sold at a concert and social event featuring expressions of music, dance and folksongs.
This year, apart from celebrating 40 years of St Vincent and the Grenadines independence, the SVGAW will also be celebrating its 43rd Anniversary as an organisation serving the Vincentian community in Winnipeg.