Posted on
WPP doctors see 89 patients in plastic and ophthalmology missions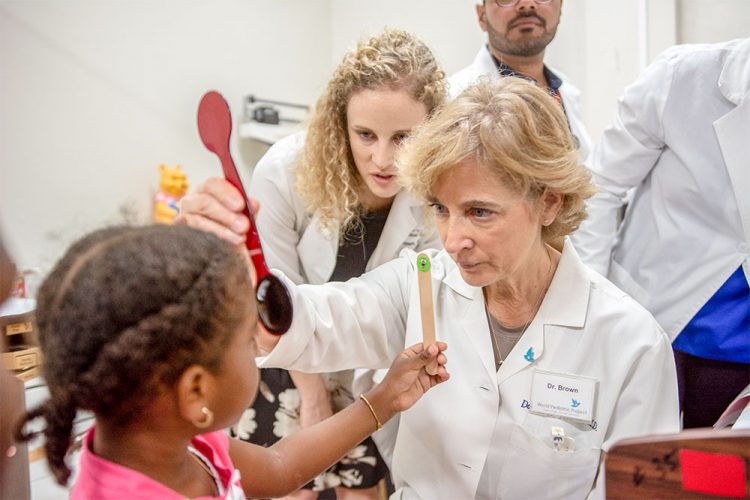 The World Pediatric Project's (WPP) latest mission was one with a difference, as a Pediatric Eye team worked simultaneously with a Pediatric Plastic Surgery team in the assessment and treatment of 89 patients.
The Pediatric Plastic Surgery team evaluated children with many different physical anomalies and was led by plastic surgeon Dr Blanchet of The Children's Hospital of Richmond at Virginia Commonwealth University (VCU). Dr Blanchet was supported by anesthesiologists Dr Jay Stone and Dr Marvin Shapiro as well as pediatric plastic surgery resident Dr Jeremy Powers, Lisa Sizemore Operating Room nurse and Marilyn Sage Surgical Technician. 
The team's focus provided care for children with complex cases and follow up cases of children seen previously. A total of 41 children were seen, of which four were from St Lucia, one from St Kitts and one from Dominica. Surgeries were performed on 21 children.
The ophthalmic team was led by pediatric ophthalmologist Dr Donna Brown, who received support from her daughter and optician in training Dr Karen Brown, Mary O'Hanley a certified registered nurse anesthetist as well as local doctor Dr Sherice Grant-Ledger.
According to a release, the team dealt with some complex cases but was successful, leaving parents happy and grateful. Dr Brown also assisted Dr Grant-Ledger with three adult surgery cases. There were a total of 48 patients seen, of which, one was from St Kitts and Nevis. There were a total of 22 surgeries.
The mission ran from February 10 to 15 and saw children up to 21 years old.
Dr Donna Brown, who is now a citizen of St Vincent and the Grenadines, and has been visiting for the last 20 years, said "Through the years … we've seen progressive improvement in the infrastructure here that allows us to do more and more things."
She however said that while they can work on getting donations of equipment and supplies, not having the necessary human resource in place to ensure post operative care limits the types of cases they can work on here.
"So that's a challenge, but it also leads to one of the most rewarding things, which is being able to do more and more now that we do have that human resource piece here," Dr Brown said.
She cited Vincentian Dr Sherice Ledger-Grant as being her local counterpart who takes care of the pre and post operative work, which allows the ophthalmic team to do cataract and corneal transplant surgeries here.
"I know I have a colleague who can take care of these post operatively," Dr Brown said of Dr Grant who had recently spent three weeks in Richmond, Virginia.
"I think one of the most rewarding things though is taking the patch off the baby this morning and seeing the smile and knowing that the little guy can see now… and seeing the expression on the parents faces when they know their children's lives have been changed," said Dr Brown.
"…I think it's changing lives …and we are Vincentian citizens now and this is our country, so where God puts you in the world, you change that place. That's what we are about, so it's just rewarding in general," she said.
The next WPP team is an orthopaedic mission led by Dr Miller from April 7.
Parents and guardians of children who may need to be assessed are asked to contact World Pediatric Project office at 784-451-2989 for more information.