Posted on
SVGSO gets much needed donation from members of Vincentian Diaspora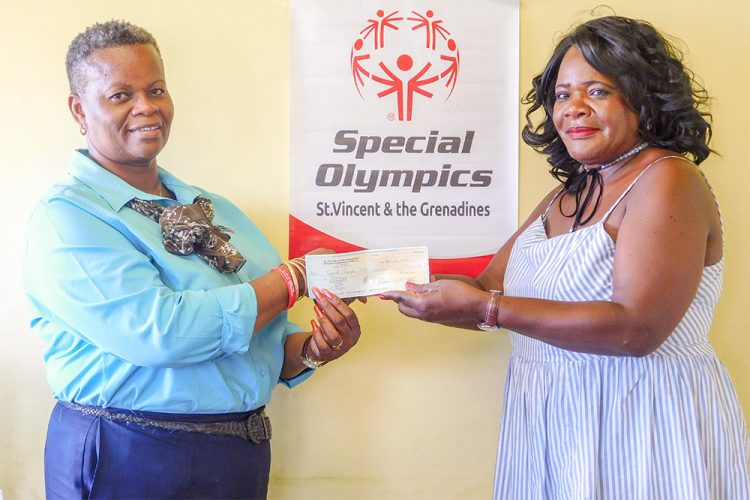 With the Special Olympics World Games less than a month away, members of the Vincentian Diaspora have donated US$1,000 to SVG Special Olympics team going to Abu Dhabi.
The Special Olympics World Games will be held from March 8 to March 22 this year. And a delegation from St Vincent and the Grenadines (SVG) will be present at the 2019 games.
Gailene Windsor, Vincentian sports ambassador made the donation on Tuesday at the Arnos Vale Sporting Complex administrative building, on behalf of the St Vincent and the Grenadines Diaspora Committee of New York.
"We're making this presentation to help the Special Olympics team to [Abu Dhabi] and hope it will come in very handy [for] whatever you all plan to do, whether it's to travel or meals or whatever it is," Windsor said.
Sezevra Joseph, the national director of SVG Special Olympics thanked the committee and said that the donation is going towards exposing athletes to new cultures as well as the sporting events.
"We want them to be able to win. Winning is not necessarily a gold, silver, bronze or whatever, but to go out there and to put into practice what they have been learning. They have been training for a long time and this is an opportunity for them to really shine and show what they are about and to show the world that a disability is not an inability," she said.
The St Vincent and the Grenadines Diaspora Committee of New York has been in existence for nine years and donates to causes that help Vincentians and advance educational, cultural and social activities.
The Special Olympics team will leave St Vincent on March 6 and return on March 25.