Posted on
Local veterinarian will experience one of India's oldest traditions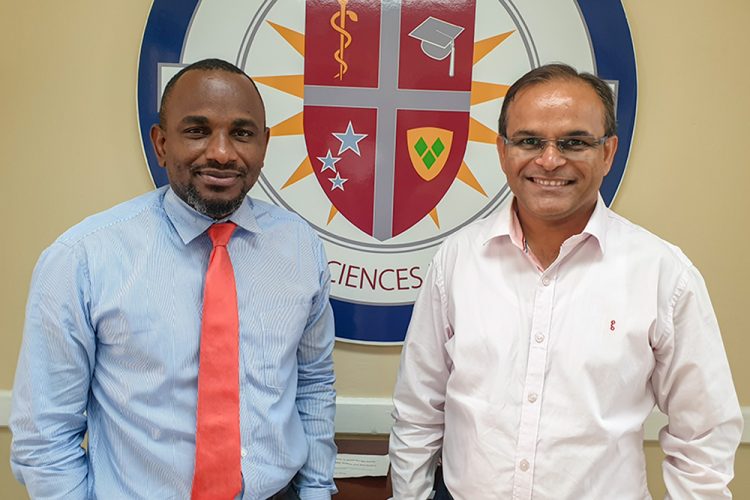 Local veterinarian and teacher Dr Eric Audain will next month, experience one of India's oldest traditions, the Kumbh Mela.
Kumbh Mela is a gathering to mark the celebration of Hindu heritage where persons gather to bathe in a sacred or holy river.
It is held every three years and this year, Dr Audain was chosen by the Indian government to experience the Prayagraj Ardh Kumbh Mela.
The festival is being held at Triveni Sangam in Allahabad, Uttar Pradesh, India from January 15 to March 4, 2019. Dr Audain will leave for India today, Tuesday, February 19.
His trip is being paid for by the Indian government and was made possible by the Indian ambassador to Suriname, Mahender Singh Kanyal and Dr Manish Mishra, Dean of the School of Biomedical Sciences Trinity Medical Sciences University, Ratho Mill.
Last week, Audain told SEARCHLIGHT he is pleased to be making the trip to India along with persons from St Lucia and Barbados. "It is an honour and an opportunity where I will be able to witness in real life, the symbol of India that relates to their civilisation and their culture and having been selected among a very few persons, I think it is really a great honour."
During his trip to India, Audain, who is also an Assistant Professor of Biochemistry at the Trinity School of Medicine at Ratho Mill, will meet with India's foreign affairs minister Sushma Swaraj and the country's prime minister Narendra Damodardas Modi.
Commenting on the trip, Dr Mishra said Dr Audain's trip is part of India's continued effort to forge strong diplomatic ties with St Vincent and the Grenadines (SVG) while introducing persons to the wonders of India.
He noted that the Kumbh Mela is held once every 12 years and it is the world's biggest fair that boasts of a temporary city, built for two months to accommodate over 10 million persons. "He is going to the biggest event as an esteemed guest of the Indian government and a representative of St. Vincent and the Grenadines", said Dr Mishra.
Dr. Mishra said that they are a lot of myths about India and trips of this nature will help with dispelling some of these myths.
He said they are hoping to spread the word of how India is making a positive impact on the world through collaborations in technology with countries like the United Kingdom and the United States.
In 2017, UNESCO placed 'Kumbh Mela' on the Representative List of Intangible Cultural Heritage of Humanity.