Posted on
2019 Guinness Pool tournament second leg done and dusted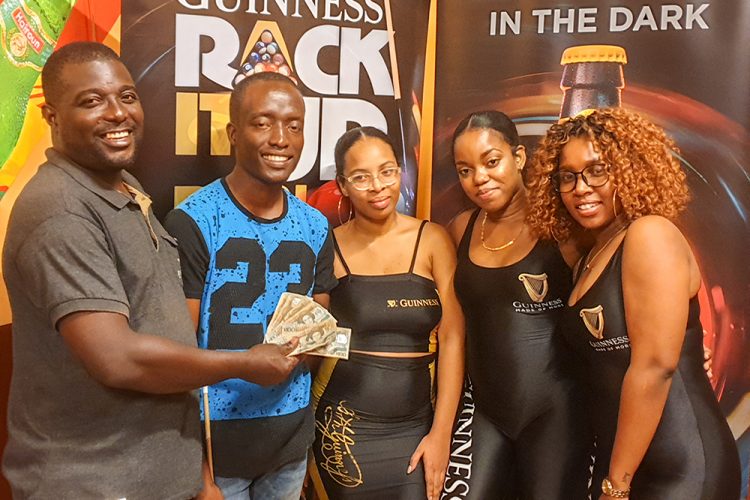 In the wee hours of last Saturday morning, Glenrick Edwards defeated Everett Glasgow in the final game of the second leg of the 2019 Guinness "Rack it up" Pool tournament.
With this win, Edwards has earned himself a spot in the grand finale, scheduled for Saturday April 6 at the Spotlight Stadium in Georgetown where the winner in the finals will get EC$6000.
The second leg of the tournament began at Nan-I's Shop in Pembroke last Friday, February 8 and when the games were played, it was Edwards and Glasgow who emerged in the top tow of the 48 players that registered.
"I playing pool since I was eight and I am 26 now. I used to play at my father's shop in Georgetown," Edwards said, explaining how he got his skills. He noted that he won a competition in Barbados in 2015, using the same stick he won with on Saturday morning.
"I feel good. Last year I tried but I lost in the prelim," said teacher of plumbing at the Georgetown Technical Institute and received $600 for his trouble.
He added, "I love the tournament as it is a great opportunity to showcase my skills and since the games began, I had a feeling I would win."
After beating Glasgow, Edwards tried to shake his hand, but he refused and walked away angrily.
The third leg of the tournament takes placed at Captain Lano's Bar in Villa on Saturday February 16. The other legs are at the Drop Off Nightclub in San Souci on Friday February 22, Police Canteen in Kingstown on Friday March 1, Skyline Bar in Bequia on Saturday March 9, Cool Corner Bar in Cane End on Friday March 15 and Azard's Bar in Troumaca on Saturday March 23.
Persons register on game night by purchasing three Guinness beverages for $12. Each registered person will play in a best of three game and the winner moves on to the next round until there is only one person left.
Players are asked to be at the venue at 6 pm on competition night to register and registration closes at 7 pm.
The other person into the finals so far is Roy Bullock of La Croix. Bullock won at the West Side Bar in Cemetery Hill on February 1.