Posted on
First spot in Guinness Pool tournament finals earned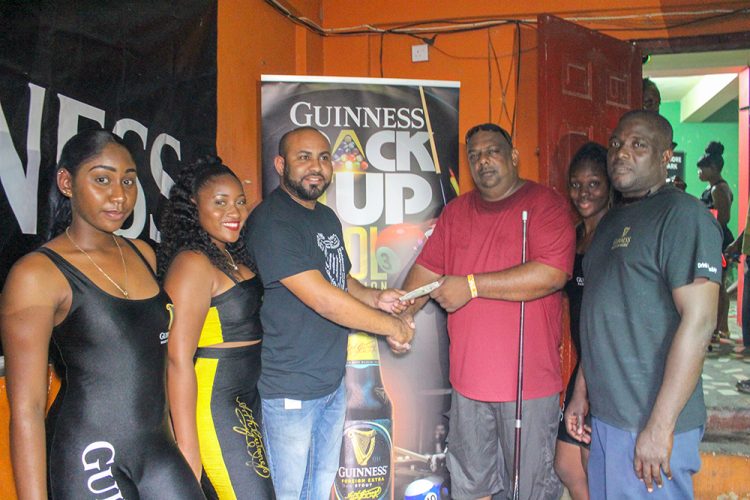 Forty-eight persons came out, but at the end of the night, it was Roy Bullock who proved to be the hungriest pool shark at the West Side Bar at Cemetery Hill.
Bullock is the first person to earn a spot in the finals of the fifth annual 2019 Guinness "Rack it up" Pool tournament organised by the St Vincent Brewery Limited.
Playing in the annual tournament which shot off last Friday February 1, Bullock, from La Croix, beat Sion Hill resident Casmos Hackshaw in the final game of the night.
After defeating Hackshaw 2-0 in the best of three final round, the 43-year-old who said that he has been playing pool since he was five years old, was rewarded with EC$600 and a chance to compete in the final set of games scheduled for Saturday April 6 at the Spotlight Stadium in Georgetown. The winner in the finals will get EC$6000.
Bullock said he gained his skills at pool by playing in his father's shop as a young boy.
"I used to play pool at lunchtime and when I come from school," explained Bullock who added that he is very excited to have won the first leg as he has been trying to "win something for the longest while," commented Bullock.
"I am going to try my best in the finals. It is a big prize and something to really get serious about," said Bullock who added that the pool tournament is good for the country and shows that pool is making a comeback.
Commenting on the tournament, trade marketer at the Brewery and tournament supervisor Cleve "Skip" McKenzie said that this year, the standard of the players is higher.
He noted that as the games were played, it was hard to predict a winner. McKenzie also noted that persons are calling for the tournament to be made a regional one.
The second leg of the 2019 Guinness Pool Tournament takes placed at Nan-I Billingy's Bar in Pembroke tonight Friday February 8.
The other legs are at Captain Lano's Bar in Villa on Saturday February 16, Drop Off Nightclub in San Souci on Friday February 22, Police Canteen in Kingstown on Friday March 1, Skyline Bar in Bequia on Saturday March 9, Cool Corner Bar in Cane End on Friday March 15 and Azard's Bar in Troumaca on Saturday March 23.
The finals will be held at the Spotlight Stadium in Georgetown on Saturday April 6. At this date, the eight winners from the preliminary round will do battle.
Persons register on game night by purchasing three Guinness beverages for $12. Each registered person will play in a best of three game and the winner moves on to the next round until there is only one person left.
Players are asked to be at the venue at 6 p.m. on competition night to register and registration closes at 7 p.m.