Posted on
Bequia Mount Gay Music Fest 2019 – 'Live Entertainment Magic'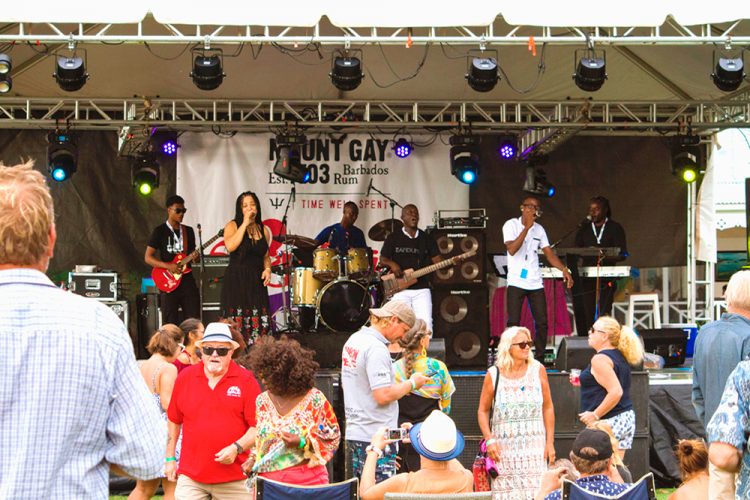 Trinidad's Erphaan Alves, backed by the veteran band Imij and Company headlined the Bequia Mount Gay Musicfest 2019 to a capacity crowd this past Saturday night at De Reef. Erphaan gave excited fans his famous rendition of the soca ballad "Overdue" among other hits, and had patrons chanting along with him in live entertainment magic. Imij and Company also gave the partygoers what they wanted, headlining on Friday Night at the Plantation Hotel, as well as backing Alves on Saturday. Sunday's draw was the iconic Beckett, the seemingly "ageless" ABC of Calypso, who did not disappoint, with more sweet soca music, and formidable horn section old school Vincy style, competently backed by Bequia's Infinity and band leader Uthan McIntosh. The annual live music festival opened on Wednesday January 30th, with a candlelight dinner and jazz concert, featuring the Caribbean Creole Jazz band GBK out of Martinique and Rodney Small and the Essence Band, both bands setting the pace for a high standard of entertainment over the five day festival.
2019 saw a plethora of Vincentian musicians perform on different nights with an emphasis on "Soca Sunday", which was dedicated to local talent. In addition to the famous ABC, the Pan Boss Rodney Small had a second performance, and many top Vincy artistes were featured such as Hance, LPank, Nicki Pierre, D'Termine, Kyron Baptiste, Keido backed by the Vykinz Band, all of whom were well received, especially Hance.
Other Vincentian artistes featured over the weekend included the legendary vocalist and pianist Andy Cruickshank, and trumpet player Hasani Arthur. Not to be outdone on Thursday Night, at the Frangipani Hotel Musicfest favorite, the 14 piece Elite Steel Orchestra gave an energized performance, led by band leader and arranger Kesslon Wilson.
The surprise of the weekend, with a fete style performance on Friday night at the beautiful Plantation Hotel came from headliners Imij and Company and bandleader, guitarist Joey Ng Wai. Despite some drizzling rain, Imij ramped up the energy and even gave an impressive, impromptu, adlib musical stand off, between Ng Wai and lead vocalist Stuart Silva that was truly spectacular. The young Bajan band Kevan Sahai and the Crashers also played great music, earning their place in the prestigious Bequia festival. Cuban guitarist and vocalist Rey Escobar backed by local talent of Joff Venner and others gave a great Latin performance, in a well-rounded night of music that makes this product so unique.
With over 130 regional and local musicians performing in the five-day, six event festival, held in Bequia at the end of every January, Bequia Musicfest 2019 was " live entertainment at its best"!
The Bequia Mount Gay Music Festival is run by the Bequia Tourism Association and its Musicfest Committee, headed by Director Sabrina Mitchell, and features a wide variety of musical genres, attracting visitors from across the globe, filling Admiralty Bay with yachts; every hotel room and guesthouse on the island; and every restaurant and bar to capacity, for this regionally acclaimed music festival, which celebrates the best of SVG and the region. The Minister of Tourism, Sport and Culture the Hon. Cecil McKie spoke to patrons on Friday night, expressing his pleasure at being present and welcomed visitors, yachtsmen and all attendees to the Bequia Music Fest – one of the many festivals that St. Vincent has to offer. He highlighted the importance of the AIA Airport in ensuring smooth travel into SVG for all the visiting musicians and patrons. The Minister gave thanks to the Director of the Bequia Music Fest Sabrina Mitchell and her committee for a job well done.
Conceived by the BTA over 16 years ago to create a much-needed boost to the tourism economy on Bequia, the Minister acknowledged that the not-for-profit Bequia Music Fest is now well-established event in the tourism calendar of the SVG Tourism Authority, who are also a major sponsor, and who assist with airport transfer logistics for the visiting musicians.
Speaking about the annual festival, Director Sabrina Mitchell indicated that the additional night added on Wednesday was an attempt to grow the festival, with the long term goal of eventually making it a week long, as it brings much needed revenue to all of Bequia, who feel true ownership and pride in this annual event. The dinner and Jazz concert was a sell out, with a delicious and elegant three-course menu, prepared by visiting Mustique chef Peter Ollivierre.
Mitchell spoke of the challenges of running such a logistically complicated event on a small budget and credited the volunteers and many of the businesses of Bequia, whose moral support ensure the sustainability of this important event to the community. She thanked the festival partner restaurants, and partner taxis that gave much needed support. She added that the secret of the festival's success is the unity it brings between our Vincentian and regional musicians and our locals and visitors, sharing the common bond of love of music for a few days together, in the intimate atmosphere that the festival is famous for.
In the Festival 2019 lineup, the Jazz Night was designed to be a mellow evening, but Rodney Small had other ideas and stole the show, mesmerizing the patrons with his unique showmanship and talent. GBK the Creole Jazz band were so good that patrons begged for them to come back for an encore in 2020. Soulful Jazz vocalist Debbie Reifer from Barbados added to the true Jazz vibes, and last but not least the Spanish flamenco guitarist Hector Belda Om, also a guitar maker displayed this unique musical genre and lifestyle of flamenco.
Not to be forgotten, the Saturday afternoon open-air jam under the palm trees was better than ever. Headlining was the Barbados Band Lennox, with his unique reggae and r and b style, who performed in 2018 and was back by popular demand. The Bequia Blues Band, also a Musicfest staple, with Uthan McIntosh, Jerry Simpson, Mikey Wilke, Nicola Cornwell had a special guest performer this year, the talented guitarist Joshu from Antigua, who, in addition to a memorable solo performance, was filling in for Bandleader Bob Berlinghof, who was unable to be present. The relaxed afternoon also included Jan and Louis and the Infinity Band and was well patronized by families and children enjoying a casual afternoon of good food, live entertainment and atmosphere.
Saturday night's Fete Night at De Reef had a lack luster performance from WCK of Dominica, who did not deliver their well-known hits as expected, playing mostly unknown new songs, but this did not dampen the enthusiasm of the patrons, who partied anyway. This was definitely not the case with Marius Charlemagne, Philip 7, and Kweku Jelani of the NJ30 band, who gave a super, high-voltage performance and captivated the audience with a strong connection. Veteran MusicFest performer, NJ 30's Charlemagne, the bass guitarist and bandleader knows what the Bequia music lovers want and delivered hands down! The band Energy, with Godfred Ollivierre opened the show on Saturday night with their unique style.
Worth noting for the important role in developing young musicians is the Bequia Kids on Pan group. Beautifully costumed in white shirts and gold bow ties, the young pan group opened the show on Sunday with an impressive performance. Pan in Bequia had its genesis with a fellow music lover, bringing pan music to the young people of Bequia over ten years ago, starting with only two players and teacher Elvis Seales. Now, many years later, with the addition of teacher Kesslon Wilson and under the management of Levi Walker and his committee, with the support of Leaf International, the Bequia Kids on Pan has grown into an impressive group of young pannists totaling over 40 players, ranging from ages 6 to 20.
The Bequia Mount Gay Musicfest in 2019 embraced social media in a big way and had much positive feedback and participation this year. The event has clearly shown that this festival is a part of the social fabric of Bequia. Visitors plan their vacations around MusicFest dates and locals look forward to it with great anticipation every year. Musicians who took part continue to acknowledge the high level of professionalism, timely execution and exceptional hospitality offered by the Bequia Music fest Committee. This year was no exception, with a smooth running event, staffed completely by volunteers and producing one of the best events in the region on a very small budget.
The Festival is sponsored by Platinum Sponsor Mount Gay Rum, the international Brand owned by Remy Cointreau, who continues to invest in Bequia's top event every year. Gold Sponsors are the SVG Tourism Authority, Bequia Plantation Hotel, and Hairoun Beer, who have also been a loyal partner of the festival for over ten years. This year had two new sponsors the Grenadine Sea Salt Company, owned by Bequia homeowner Jerry Simpson, as well as Going Places Travel. Additional sponsors included Outhouse Graphics, Frangipani Hotel, De Reef, MasterRoom Studios, Boom FM, Cocoa Cola, Tus-t Water, Greater Antilles Music, Quik Print, Compass Publishing, and Ticketpal Caribbean. Sound Engineering was exceptionally provided by Platinum Sounds.
If you missed a great weekend of entertainment magic, plan for next year……dates are set for January 29 to February 2nd, 2020.