Posted on
MCMH receives EC$10,000 worth of medical supplies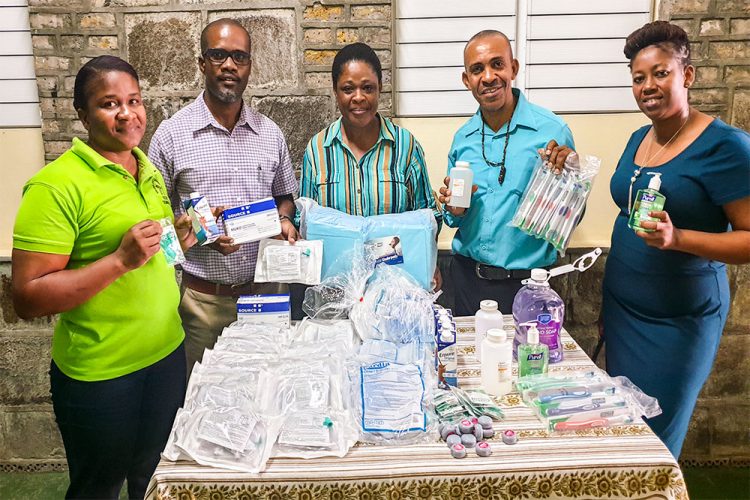 A team effort that brought together persons in the Diaspora has benefitted the Milton Cato Memorial Hospital (MCMH).
Last Friday, political activist Frank DaSilva and parliamentary secretary in the Ministry of Education Deborah Charles handed over approximately EC$10,000 worth of medical supplies to the Permanent Secretary in the Ministry of Health Cuthbert Knights and deputy hospital administrator Andrew Williams.
The donation came about through the efforts of Tammy Kirby, Garnes Byron, Glenroy Phillips and Evancey Harry, Vincentians residing in New York. (NY).
Among the supplies were toothbrushes, disposable diapers (new born and adult), hand soap, nutritional supplements (Ensure), dental floss, urinary leg bags, urinary drainage bags and lubricating jelly.
"This is in an effort to do what we could to assist in improving the delivery of health care in the country of our birth. We hope that these supplies will in some small way enable the hard-working staff at the Milton Cato Memorial Hospital to carry out their functions with greater efficiency and ease," Kirby told SEARCHLIGHT.
She added that they are thankful to all who contributed to the venture. She also assured the MCMH that this is just the beginning of what is intended to be a long and healthy partnership between the NY Diaspora and the MCMH.
In response, the Permanent Secretary said that MCMH is grateful for the donation. He said the supplies are in need and will complement the supplies at the MCMH.
"Additionally, they will also help us to save some monies because we would not have to buy what is here," Knights told SEARCHLIGHT.
He said that other persons wanting to make donations may call 4561185 and the MCMH has a donation list that will be provided.
Knights said the policy of the State is that no customs duty is charged on donations of this nature.
Charles said the government is thankful for the donation as they heavily subsidize the operations at the MCMH.
"We need to have other partners assisting the government and we are grateful for these persons who live in the Diaspora, [and] what they have been doing to assist. I know for example that Tammy does not only help with this, but she also helps with back to school," said Charles.