Posted on
Activist arrested for no show in court says the 24 hours in lock up was awful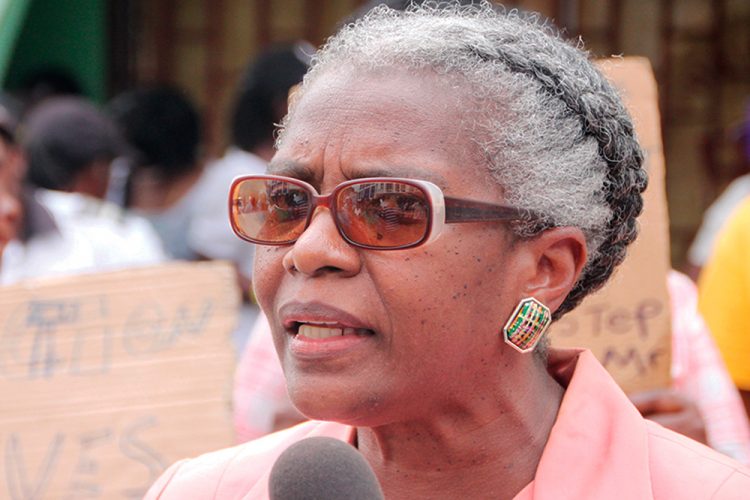 Political activist Luzette King has described the 24 hours she spent in a lock up at the Questelles Police Station as awful.
She was detained last Friday after a bench warrant was issued for her arrest when she did not turn up for court that day.
King was expected in court to answer a charge of causing inconvenience to the public in the exercise of public rights, to wit, by sitting in the public road hindering the free flow of traffic, contrary to Section 282 of the Criminal Code, Chapter 171 of the revised edition of the laws of St Vincent and the Grenadines 2009.
She was arrested in January 2016 as she sat at the side of the road outside the electoral office, after police instructed her to move. King, along with a group of persons, was protesting the outcome of the 2015 General Elections.
The activist told SEARCHLIGHT she mixed up the date, thinking that she had to appear on Monday February 11.
When she did not show up at the Mesopotamia Magistrate's Court, magistrate Bertie Pompey issued a bench warrant for her arrest, but on Saturday, the magistrate visited the police station, rescinded the warrant and gave King a new court date.
King said she is not sure why the magistrate took the unusual step of visiting the police station to rescind the warrant, but it may have to do with the reaction of the public.
"… The radio lit up, Facebook lit up, everybody was angry. The station was full of people coming in…I don't know if that is why he came…," King told SEARCHLIGHT.
In April 2017, magistrate Pompey instructed then Director of Public Prosecutions (DPP) Colin Williams to give disclosure to King's defence team. Disclosure is a copy of the evidence that the Crown and police have collected to prosecute a case.
King said that disclosure still has not been given and there was no way that the case would have been heard last Friday, so she does not think it was right for the prosecutor to ask for a bench warrant for her. She said none of her lawyers were in court for the matter, a charge she considers a traffic offence.
"It has been ongoing for two years now and we are at the stage where the prosecutors have to comply with a disclosure for court and they are refusing," King said.
She revealed that when she learnt a bench warrant was out for her, the court in Mesopotamia was already adjourned for the day and as a result, she went to the Kingstown Police Station.
King said when she went there, she asked about the bench warrant and the police officers in Kingstown contacted the Mesopotamia police to confirm that a bench warrant had indeed been issued for her arrest.
She said after this was confirmed, she was told to go to the Questelles Police Station as the Kingstown Police Station does not have the facilities to detain women.
"I had a concern knowing that it was Luzette King. I didn't want no police meet me nowhere and try to embarrass me. Secondly, I had enough time if I went to the nearest police station and let them know, they could arrest me and take me to court before 3 p.m. That is why I went to the police station.
"My lawyers were both busy…I decided that I am not going to be walking the street and have no police come and harass me," King told SEARCHLIGHT.
King said that her lawyer Zita Barnwell tried contacting Magistrate Pompey on Friday, but was unsuccessful, but they were able to make contact with him on Saturday.
"They went to his house, called him by phone and on Saturday while I was there, my lawyer called me to tell me the Magistrate is coming to the police station.
"What I want to know is if the prosecutor will really ask for a bench warrant when I have never missed a hearing and if she would also ask for a bench warrant when they have not complied with the court order," said King.
"… But we were looking for him and he came and tried to explain to me why he was there and I asked him 'do you know whether the prosecutor had complied with the order? and he said 'no' and I said 'there it is, had they done that then you would not have to bench warrant me'. I had made up my mind to stay until Monday morning, but whatever happened he came down in person," King commented.
King said she never received a summons and was not told that the matter had been moved to the Marriaqua Magistrate's Court.
"I still have little confidence in magistrate Pompey looking at this because if somebody ask, he knew that I reminded them of the order of disclosure and to tell me on Saturday that he didn't know whether they complied, yet he granted a bench warrant for somebody who have always attended whether or not I had a summons or not…"
King said she was detained from Friday around 2 pm and released on Saturday around 2 pm and her experience was awful.
"The conditions are atrocious, human faecal matter, the stench of the air, I left there and came out with a headache. There are no proper bathroom facilities," King said, while adding that the station appears to not have been cleaned in a long time and magistrates should be aware of the conditions they send persons into.
King is expected back in court on Friday February 15.