Posted on
Nine honoured for making SVG Nine Mornings Festival possible since 1998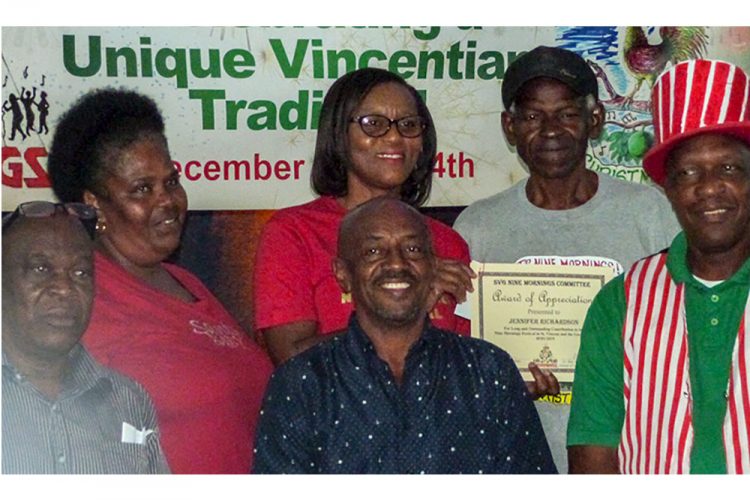 TWENTY YEARS on from the start of the official Nine Mornings Festival, nine stood honoured on Saturday for making the festival possible since 1998.
The Chairman of the SVG Nine Mornings Committee, Michael Peters, noted that as the official Nine Morning Festival turns 20 this year, that the maintenance of the festival relies on what is done at a community level.
"In keeping with our plans to always be reminded to say thanks, we want to acknowledge nine of those persons. The list is not exhaustive but if you really want to acknowledge nine persons this year who have been on that journey with us for more than 15 years," Peters said.
He said that the honourees were receiving a certificate of appreciation and were also being awarded in a 'tangible' way.
The first honouree known as 'Mr North Leeward' was described as holding the fort at Rosebank, but also giving assistance to other communities, also winner of the Best Community Song this year, Everald Ince.
The second honouree was Gideon Lewis. Lewis was introduced as, "Usually very quiet and unassuming but he has made tremendous contributions for a long, long time, working with three of four different committees but keeping it together."
"Really without much fanfare, but what a magnificent contribution he has made," Peters added.
He noted, "a number of committees are headed by ladies, and we really have to thank the women who have done that over the years." He stated that the next honouree, Jennifer Richardson who has been leading the way in Carriere has led the community to best Nine Mornings and Best Christmas Community while at the helm.
Peters said the Committee owed a lot to Leroy Llewellyn of Sion Hill. "In 1999, Lennox [Bowman, the deputy Chairman] had an idea, you know it would look nice if when you coming in from the airport the gateway to the capital is lit, and one gentleman along with his committee took up that challenge," Peters informed, referring to Llewellyn.
Next was another female stalwart Ingrid Lavia, who has been leading the Owia community for 'many, many, many' years.
Two Pastors were also honoured, as the Committee affirmed from inception that they did not want to lose sight of the reason for the season; Jesus.
"We start every Nine Mornings program with a devotion, we approached several pastors, unfortunately some said they didn't want to be part of it, nobody wanted to hear the gospel. But there were two gentlemen who said that we will stand with you, we appreciate what you do, and for 20 years they have been standing with us," the Chairman said as he called forth Pastor Errol Daniel and Pastor Noel Clarke.
Eden Gonsalves, who was absent, was responsible for the lighting of the Richmond Hill Gardens.
Lastly, Carlton CP Hall was recognized for his contribution to music for the festival, with songs like, the popular 'children's anthem' 'I love me Christmas,' and 'We going Nine Mornings.' "Music helps to fuel the development of the festival, and this gentleman has contributed much over the past years," Peters commented.