Posted on
Flow spreads Christmas cheer across SVG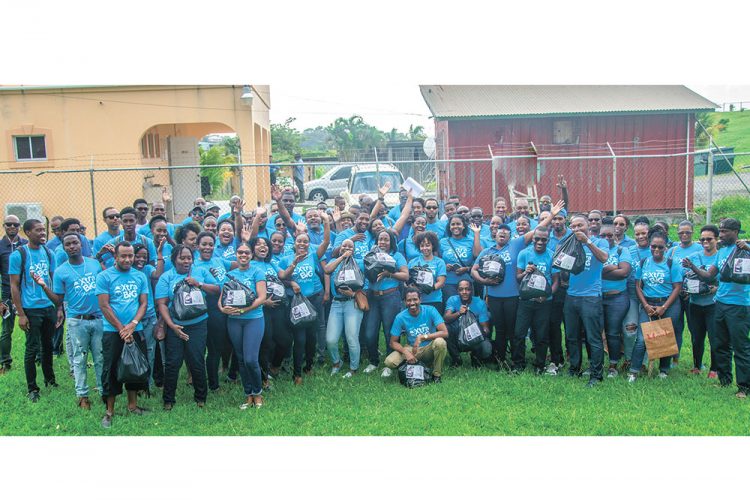 On the heels of the launch of Flow's, 'Xtra Big Christmas' promotion, the telecommunications company dedicated a day to charitable acts across St Vincent and the Grenadines.
On Wednesday December 5, the company closed its doors of business, and embarked on its annual Mission Day activities; a day which is usually dedicated to selfless acts and giving back to the community.
Last Wednesday's event saw over 100 employees journeying to communities across the country, distributing care packages. With the assistance of community nurses, the Flow team was able to meet and offer care packages to scores of shut- Ins, amputees, persons living with disabilities and persons who have no relatives to care for them.
The teams journeyed as far as Fancy, Fitz Hughes and the Vermont and Mesopotamia Valley.
Members of the Flow team described the mission as emotional and gratifying to know that they were able to touch the lives of persons who are often overlooked. They explained that many of the recipients of the care packages became emotional and expressed much gratitude of the unexpected gesture by telecommunication provider, Flow.
Last year, the company recognized Mission Day by holding a Chinese Auction. The proceeds were donated to assist with rebuilding efforts in the islands that were affected by Hurricane Irma.
Flow's Marketing and Communications lead Nikala Williams said the company's Christmas promotion continues in full swing, ensuring that there is something to accommodate the need of every customer.
She further stated that customers would be able to take advantage of affordable LTE enabled handsets while others will be able to get a free LTE sim switch. Williams explained that the Flow team has spent a great deal of time revamping the company's mobile plans which offer its customers more value for less.
Customers would also be able to win hams, turkey, goodie bags.
A release from the company said the "ridiculous deals" are expected to continue throughout the Christmas festivities.